"They're trying to hide history from us."
Comments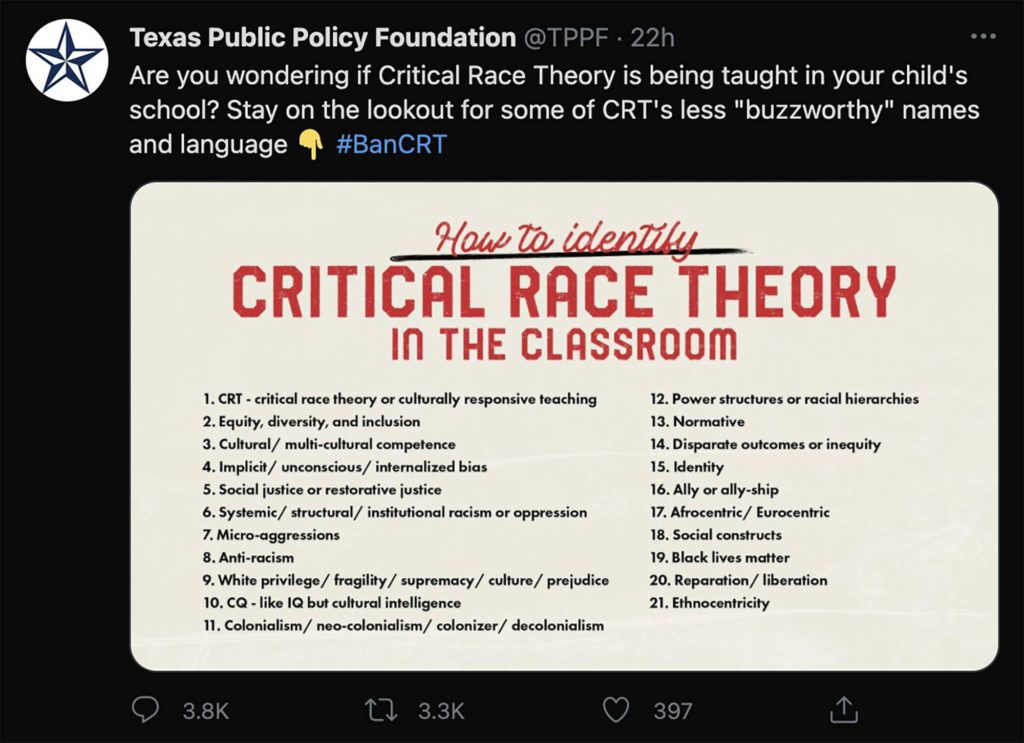 It's very hard to push back effectively when two dozen states are competing with each other to attack higher education and even the teaching of history or race or gender. But we should highlight the various terrible bills these idiots are trying to pass and remember that in fact we can push back and win, at least a battle if not the war. From Indiana:
The Indiana Senate killed controversial House Bill 1134, which would have banned several "divisive concepts" and given more power over curriculum and classroom activities to parents, Monday night after several hours of closed-door discussions in the Republican caucus. 

Even though Republicans have a supermajority in the General Assembly, Senate President Pro Tempore Rodric Bray, R-Martinsville, said he didn't have the votes to support the bill that was inspired by nearly a year of debate about "critical race theory" in the state's public schools.

They were largely divided into two camps after a Senate committee watered it down in the face of opposition. 

"We had some members of our caucus who felt like it didn't go far enough," he said. "We had some members of our caucus that felt like it was too much of a burden on education and just not good policy that we wanted to move forward."

The bill, which would have limited what teachers could say in the classroom about race, sex and religion had been staunchly opposed by educators, school leaders, civil rights groups, Black community organizations and leaders in the faith community. 
Also, Wyoming:
A legislative committee on Friday decided against a budget amendment that would have stripped the University of Wyoming's gender and women's studies department of all its funding.

Instead, the Wyoming Legislature's Joint Conference Committee replaced the gender studies measure with a provision that requires the university to report to two legislative panels on the school's general education requirements, as well as any policies or regulations that incentivize or disincentivize students to take certain coursework outside of their majors.

The change was "truly a compromise position" that was hashed out behind the scenes between House and Senate members of the committee, said Rep. Tom Walters, R-Casper. The Senate was in favor of cutting the gender studies funding while House members approached it with "a hard no," he explained.

"We reviewed it, discussed it, arm wrestled over it. We don't want to blow up a $2.5 billion budget over a few words," he said, in a reference to the entire state budget.
But let's be clear–these people are looking to create a white male hetero fantasyland enforced by the law with no dissent. Good piece about the Tennessee nonsense banning Maus.
In Tennessee, the effort to rethink what materials are taught and made available to public school students is being promoted in earnest at the State Capitol, including by the governor, who has framed the issue around parental rights.

"We also need to empower parents with a candid look into not only how their children are learning but what their children are learning," Mr. Lee, a Republican, said last month. "The vast majority of parents believe that they should be allowed to see books, curriculum and other items used in the classroom. That's how I felt about my kids, and I stand with those parents today."

Legislators have drawn from bills in other states, policy research from conservative think tanks and previous bills proposed in Tennessee to assemble a roster of legislation to limit materials and topics available to students. Pressure has mounted from local chapters of Moms for Liberty, a parents' rights advocacy group that is active in Tennessee.

"We've got a perfect storm of circumstances that are encouraging legislators to address this issue," said Deborah Caldwell-Stone, director of the American Library Association's Office for Intellectual Freedom.

The Republican agenda to remake education goes even further: In his State of the State address, Mr. Lee proposed creating a $6 million American civics institute at the University of Tennessee as a counterweight to colleges and universities that he said have become "centers of anti-American thought, leaving our students not only ill-equipped but confused."
Of course, no one is asking the students, who are increasingly curious about what their parents and government is trying to stop them from learning:
Unprompted, boxes of donated copies of the book flooded the local public library. High school students have rushed to get copies, passing them to one another between classes.

Emma Stratton, a junior at McMinn County High School, drove with her mother and brother an hour away to Chattanooga to buy several copies of the graphic novel. "If they take away this book, what else are they going to take away from us?" Emma asked, adding, "They're trying to hide history from us."
Yes, that is the agenda of the Republican Party. They want to hide history from us.