A Step Forward for Public Health In California
Comments
As many of you are already aware, California is having something of a public health crisis, due to the fact that the personal belief exemption for vaccination has been used by large numbers of people, mostly affluent, well-educated believers in "natural" child-rearing to drive immunization rates well below herd immunity levels in certain areas. The result has been epidemics of whooping cough, measles, and other totally preventable diseases.
For a couple of months now, I've publicly challenged any state legislator in California to put forward a bill eliminating the personal belief exemption. And now someone has:
Alarmed by the spread of disease as some parents decline to vaccinate their children, two three state lawmakers [Senator Richard Pan (D-Sacramento) and Senator Ben Allen (D-Santa Monica) – and now joined by Assemblywoman Lorena Gonzalez (D-San Diego)] plan legislation aimed at increasing the number of youngsters who have been immunized when they start school in California.

They will propose restricting parents' ability to obtain a "personal belief" exemption from immunization shots required in California, said people knowledgeable about the plan but unauthorized to speak publicly.
This restriction amounts to a total elimination of the personal belief exemption (hat tip to Ilissa Gold for the clarification), as you can see below: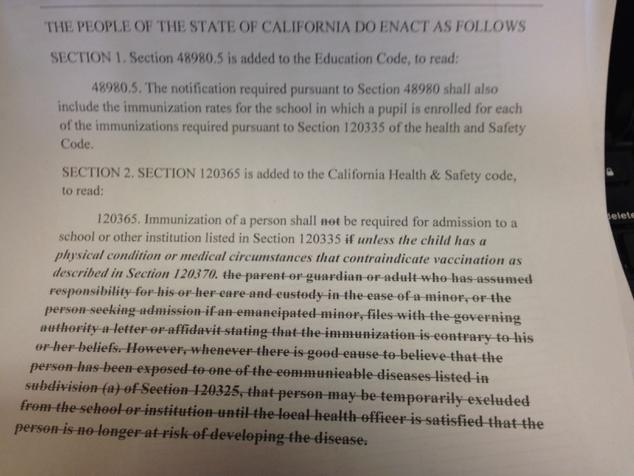 It's good to see state legislators bite the bullet and go for bold, progressive legislation, especially with issues where there are powerful forces who will viciously counter-attack (the problem with affluent, well-educated people is that they're good at fighting change). So it's incumbent on us as activists and writers to promote this effort, support Senators Pan and Allen and Assemblywoman Gonzalez and anyone else who signs onto this bill against the storm of crazy that's about to descend on them, and push back against the inevitable anti-vaxx backlash.