Biden's Immigration Failures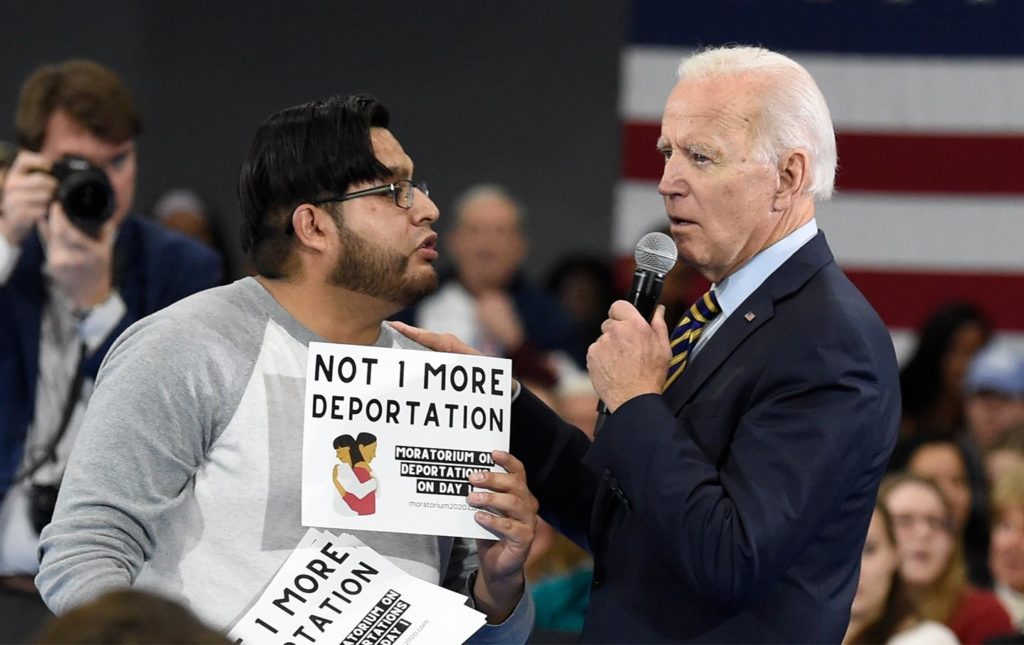 It's early, but Biden has most strikingly disappointed immigration activists more than probably on any other issue, perhaps excepting Iran. Yes, he backed off his terrible choice to limit the refugee cap. And his CBP choice is excellent. But it's also clear that immigration is just not a very important issue for Biden, or one that he wants to expend political capital on. This account of him backing off his refugee pledges certainly suggests his disinterest:
Secretary of State Antony J. Blinken was in the Oval Office, pleading with President Biden.

In the meeting, on March 3, Mr. Blinken implored the president to end Trump-era restrictions on immigration and to allow tens of thousands of desperate refugees fleeing war, poverty and natural disasters into the United States, according to several people familiar with the exchange.

But Mr. Biden, already under intense political pressure because of the surge of migrant children at the border with Mexico, was unmoved. The attitude of the president during the meeting, according to one person to whom the conversation was later described, was, essentially: Why are you bothering me with this?

What had been an easy promise on the campaign trail — to reverse what Democrats called President Donald J. Trump's "racist" limits on accepting refugees — has become a test of what is truly important to the new occupant of the White House, according to an account of his decision making from more than a dozen Biden administration officials, refugee resettlement officials and others.
This just flat out is not acceptable. Being to the right of George W. Bush on this issue is not a place Democratic presidents can be. And let's not underestimate just how mad immigration activists are at Biden.
The Biden administration's recent reversal of its plans to raise the refugee cap sparked outrage not only among immigration advocates but from Democrats who accused the president of breaking his promise. Democratic Sen. Richard Durbin of Illinois said in response to the news on Twitter Friday, "Say it ain't so, President Joe. This is unacceptable." Raising the refugee cap is one of at least five promises on immigration made by candidate and President-elect Biden that have not yet been fulfilled as the end of his first 100 days approaches.
What are they?
Reunite separated migrant families: In the final presidential debate, Biden was asked what he would do to reunite 545 children with their parents after they were separated by the Trump administration in 2017 and 2018. Biden pledged to build a task force to reunite them. While the task force has formed and has pledged to bring back deported parents to reunite with their children, not one of the deported parents has so far been brought back, according to lawyers representing the families. On a call with reporters earlier this month, a senior Department of Homeland Security official said the task force is first working on capturing the "full scope" of those potentially affected by the policy.

End detention of migrant families by Immigration and Customs Enforcement: During his presidential campaign, Biden tweeted "Children should be released from ICE detention with their parents immediately." Asked in March whether he agreed, Homeland Security Secretary Alejandro Mayorkas said "a detention center is not where a family belongs." Shortly after, in a court filing, the Biden administration said it would be ending the practice of holding migrant parents and children who are seeking asylum in detention. But then ICE walked it back, with a senior official telling NBC News, "We are not ending family detention. We are not closing the family detention centers."

Raise the refugee cap: As a candidate, Biden promised to raise the limit on refugees resettled in the U.S. annually from the Trump administration's historic lows to 125,000. Once in office, the Biden administration said that goal would be realized in the 2022 fiscal year, which begins in October, and it would admit 62,500 this fiscal year.

Stop border wall construction: At the beginning of his presidency, Biden paused border wall construction and land acquisition until a a 60-day review of Trump's border wall could be completed. The review tasked those involved to decide where the money set aside for the wall could be redirected. The 60-day mark passed more than 30 days ago without any results.

Hold the Trump administration accountable for family separation: As a candidate, Biden called the Trump administration's practice of separating migrant families "criminal." During the presidential transition he said, "There will be a thorough, thorough investigation of who is responsible and whether or not the responsibility is criminal and if that has been concluded the [Attorney General] will make that judgment." But so far, no such review has been launched. In a recent court filing, the Justice Department blocked the release of Trump administration documents that detailed the planning of the "zero tolerance" policy that separated nearly 3,000 migrant families.
Yes, it is still early in the Biden administration. But on basically every other issue he campaign on, he has acted in some form or another in a positive way. On immigration, he had to be badgered into not making things worse. It's a problem and we need to hold the president accountable.