M&M's smashed beneath the iron heel of fascism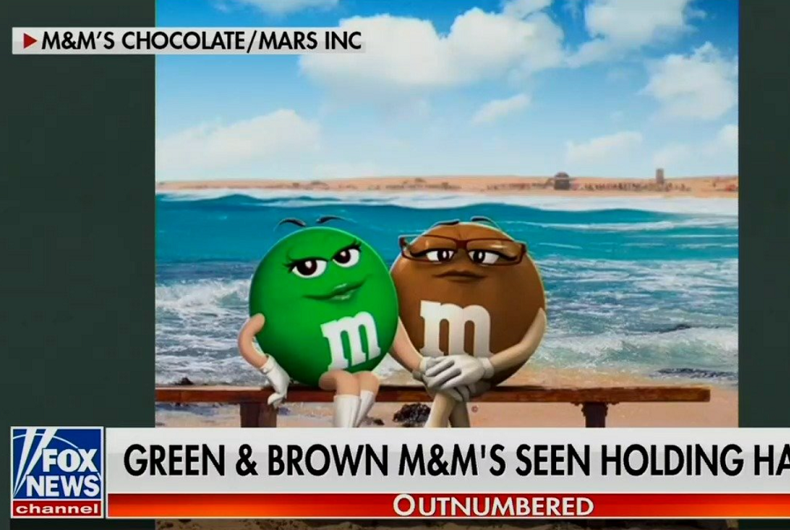 I don't want to blog about this, but I guess in the end we're all assimilated by the right wing Borg in one way or another:
Amid conservative outrage over an imaginary, candy-based culture war, the M&M's brand has announced that it's retiring its 69 year old spokescandies.

"America, let's talk," the M&M's account tweeted on Monday. "In the last year, we've made some changes to our beloved spokescandies. We weren't sure if anyone would even notice. And we definitely didn't think it would break the internet. But now we get it—even a candy's shoe's can be polarizing."

The company goes on to say that the characters are on an "indefinite pause," and actor Maya Rudolph will take their place as spokesperson.

The anthropomorphic candies have been part of M&M's branding since 1954, and have gone through multiple evolutions, including introducing female characters. The green M&M has been sexualized in M&M's ads over the years since her introduction in 1997—a legacy parent company Mars seems to be trying to turn around through girlbossification.
Girlbossificaion is an Elvis Costello album I would definitely buy.
Moving right along, what are the odds that model for Bret Easton Ellis 1980s upper class white sociopathy and heir to vast frozen food fortune Tucker Carlson is in the middle of this somehow?
It's unclear what controversy, specifically, the announcement is referring to, but the shoes comment is a clue. In January 2021, conservative pundit and culture warrior Tucker Carlson lost his mind over a different M&M's advertising campaign, in which the female-coded candies swapped their knee-high boots and stiletto heels for more practical footwear.

"M&M's will not be satisfied until every last cartoon character is deeply unappealing and totally androgynous," Carlson said during a rant about the change. "Until the moment you wouldn't want to have a drink with any one of them. That's the goal. When you are totally turned off, we've achieved equity."
More recently, we have this:
In a segment on Tucker Carlson Tonight, Carlson noted that the green M&M is "now a lesbian maybe," referring to a years-old tweet about the green and brown ones, and that the purple M&M is "obese." (All of the M&M characters are shaped like round candies with stick legs and arms.)
I read in a Malcolm Gladwell book, so odds aren't necessarily that great that it's true, that Van Halen would stipulate as one point of many in its contract rider for concerts that all the brown M&M's be removed from the backstage bowl of said candy to be provided for their enjoyment. The Point of This was to check if anybody was actually reading through the contract, so that a boom wouldn't fall on their heads in the middle of the show because of negligence, or something.
This is all pretty depressing if you think about it, so I should probably take the advice Nick is given a the end of The Killers, and not think about it.