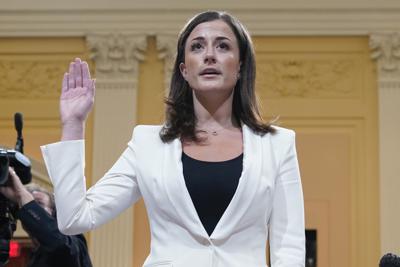 Donald Trump, June 2015:
Cassidy Hutchinson, June 2015: (Go to the 1:23:20 mark in the video):
An unfortunate consequence of the fact that Hannah Arendt didn't have access to subsequent historical research that revealed that Adolph Eichmann was himself a fanatically committed anti-Semite is that the tremendous explanatory power of her concept of the banality of evil has been a bit obscured by the flaws in her analysis of Eichmann per se.
On the broader point Arendt was absolutely right. Cassidy Hutchinson is very far from blameless, but in the end she did the right thing, which is much more than can be said of the dozens of far older, wealthier, and more powerful people she worked with who knew what she did but have chosen to remain silent.
A perfect illustration of Arendt's argument is Mark Meadows refusing to look up from his phone when Hutchinson tells him the Capitol is being stormed:
On the day of the Capitol attack, Hutchinson informed Meadows that protesters brought weapons to the Jan. 6. rally, to which Meadows largely ignored her while staring at his phone. When violence erupted at the Capitol, Hutchinson told Meadows, who had little reaction to the news.

"He almost had a lack of reaction," Hutchinson said. "I remember him saying, 'All right,' something to the effect of, 'How much longer does the president have left in his speech?'"

When Hutchinson told Meadows again that rioters were getting closer to the Capitol, he showed little regard while "sitting on his couch on his cellphone."