The Dangerous Expectations We Have of Novelty Women
Comments
Reading this piece by Maddy Meyers felt revelatory to me because it addressed something that I think desperately needed to be addressed: the idea that sometimes women are average/mediocre…bad at things. And that's ok.
I'll be honest with you: I get hives thinking about women who break into career fields and pastimes that were previously (at least thought of as) solidly male territory. The reason I get hives is because when you are the only or one of a few women who are entering this new territory, you immediately cease to be a woman and become all women, everywhere. You cease to be a person, you become a gender. You become representative of all women and how all women will perform.
Obligatory: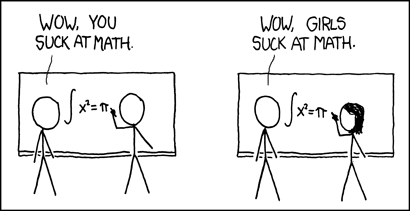 Let's be honest: not every woman who picks up a guitar will play like Orianthi. Not every woman who drums will drum like Salin Gas. Not every woman who breaks into a STEM field will be a genius. And not every woman who picks up a console will be a KICKASS GAMER GRRRL. But women have to have permission to be mediocre and even to suck. Because if we don't allow that, that–in and of itself–becomes a woman's biggest barrier to breaking barriers.
Just a note: Before anyone pushes his glasses up his nose and huffs and puffs about how Orianthi and Gas are not "such and such," please remember I'm not claiming to be an expert on playing guitar or drums. I'm holding them up as examples of kickass women who have earned some praise and respect. (For good reason, in my humble opinion.)