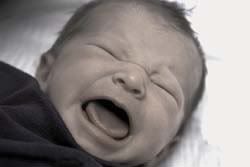 George M. Steinbrenner is principal owner of the New York Yankees.
It's not just the announcers who can see only one possible explanation for Greatest Pitcher In Known Human History Joba Chamberlain giving up a run:
But with his team teetering on the brink of a knockout, the old Steinbrenner came out swinging on Saturday night, putting Torre on immediate notice and ripping into umpire Bruce Froemming, the veteran crew chief from Friday night's Game 2 who declined to stop play despite an infestation of Lake Erie gnats.

"The umpire was full of [expletive]," Steinbrenner said of the retiring Froemming. "He won't umpire our games anymore."
Boo-hoo-hoo-hoo-hoo. Granted that Froemming should have retired during the Reagan administration, his decision here was unquestionably correct; bugs are part of playing baseball on humid days on Lake Erie. Moreover, the bugs also affected the hitters — for all we know Chamberlain would have given up a three-run homer pitching in a bug-free environment — and amazingly the bugs didn't prevent Carmona from throwing that great slider, or Rivera from pitching two scoreless innings.
But it's not only Joba; it's the Greatest Athlete In History of Mankind who was affected!
In the wake of that Game 2 defeat, Steinbrenner said the Yankees had complained to baseball commissioner Bud Selig about the decision to play on. "[Selig] just said, 'That's in the umpires' hands,' " Steinbrenner said. "But Jesus Christ, it was terrible. It messed up the whole team, [Derek] Jeter, all of them."
Yes, Jeter is one for eight, and has no range, because of the bugs. It's all the bugs. They somehow knew to affect only one team on the field; amazing.
The bad news here is that Steinbrenner claims that he'll re-sign A-Rod no matter what. I would especially like to see the Yankees out before Slappy can get hot to increase the pressure to let him walk, but alas Cashman isn't nearly as dumb as the median fan or pundit.
As for what will happen tonight, I can't even predict. Part of me sees this like Game 4 last year, with Clemens pulling up gimpy and the Indians getting out to a big lead and the Yankees losing their discipline. Part of me sees the Yankees — as has been their wont — teeing off on Westbrook and getting right back in it. I'll say this: I think it goes 3 or 5; I don't see Byrd beating Yankees Stadium Wang. With Sabathia and Carmona both on full rest a Game 5 wouldn't be awful, but still, it would be immensely desirable for the Indians to put the boot down now.