Wokeness killed the Silicon star
Comments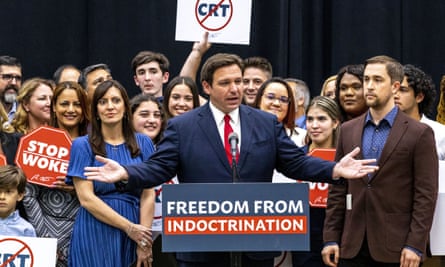 The directive has gone out from on high, and all the right wing blatherers have lined up like a troop of parrots to repeat the same lines over and over:
Gov. Ron DeSantis is blaming woke economics for the collapse of Silicon Valley Bank.

DeSantis, appearing on the Fox News Channel's Sunday Morning Futures with Maria Bartiromo, expressed confidence that the issues the California financial institution is experiencing won't reach Florida banks, while also offering a series of other insights about what may have led the bank to its current peril.

"So, I don't have any specific information about any Florida Bank similar to Silicon Valley Bank, and hopefully, that remains the case," DeSantis said, before offering some speculation about philosophical reasons the bank is in turmoil.

"I mean, this bank, they're so concerned with DEI and politics and all kinds of stuff. I think that really diverted from them focusing on their core mission," DeSantis contended.

Home Depot co-founder Bernie Marcus echoed the same theme, telling Neil Cavuto of Fox News: "I feel bad for all of these people that lost all their money in this woke bank. You know, it was more distressing to hear that the bank officials sold off their stock before this happened. It's depressing to me. Who knows whether the Justice Department would go after them? They're a woke company, so I guess not. And they'll probably get away with it."
A WSJ editorial burbles:
In a proxy statement SVB notes that besides 91% of their board being independent and 45% women, they also have '1 Black,' '1 LGBTQ+" and '2 Veterans.' I'm not saying 12 white men would have avoided this mess, but the company may have been distracted by diversity demands.
Yeah, that's the ticket.
Hey, I wonder what the Venn diagram looks like that tracks people who oppose student loan forgiveness because of knock-on effects, i.e. moral hazard, but support bailing out SVB because now is not the time to talk about moral hazard?
Lawrence Summers, an economist who worked in the Clinton and Obama administrations, has been tweeting up a storm this weekend, advocating for a complete bailout of Silicon Valley Bank, which collapsed on Friday after a bank run reportedly led by billionaire Peter Thiel. But Summers doesn't want to hear any "moral hazard lectures," as he puts it, about the risks of helping companies that had accounts with SVB.
Former Harvard University president and Treasury Secretary Larry Summers took to Twitter Monday to say that student debt relief could have negative effects on inflation. The debate on whether forgiving student debt is considered government spending, and therefore inflationary, has grown in recent days, especially after Education Secretary Miguel Cardona said that the Biden administration will make a decision on student loans "within the next week or so."

"Student loan debt relief is spending that raises demand and increases inflation. It consumes resources that could be better used helping those who did not, for whatever reason, have the chance to attend college. It will also tend to be inflationary by raising tuitions," Summers tweeted.

"Every dollar spent on student loan relief is a dollar that could have gone to support those who don't get the opportunity to go to college," he continued.
Survey says: Perfect circle.