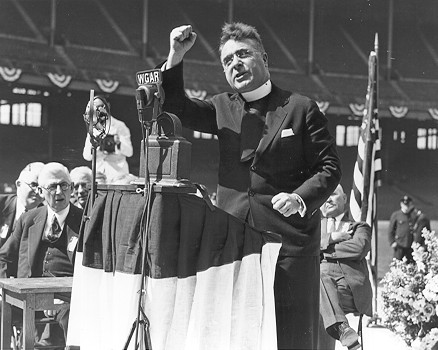 At a Trump rally in Michigan last night:
The patented Reactionary Centrist Universal Defense Mechanism will shrug and point out that MTG is a fringe figure in the Republican party. The Not Living Under A Rock response is that this was at a rally for the presumptive 2024 Republican presidential nominee.
On a vaguely related note, I was talking with a 40-year-old woman who is probably in the 99th percentile for the American population in political awareness. She went to a good high school — her best friends were Connor and Maddie — and a top liberal arts college. She knows a lot more about Italian fascism than I do, to pick just one subject on which she is particularly knowledgeable.
We were talking about historical precursors to what's happening now, and I learned that she had never heard of Father Charles Coughlin. This is obviously totally anecdotal, but it did strike me from my own educational experience as well that we do a terrible job in this country of educating people about its history of right wing radicalism (The history of Reconstruction and its aftermath is the most striking example of this).
The idea that it can't happen here is somewhat undercut by the fact that it has already happened here.