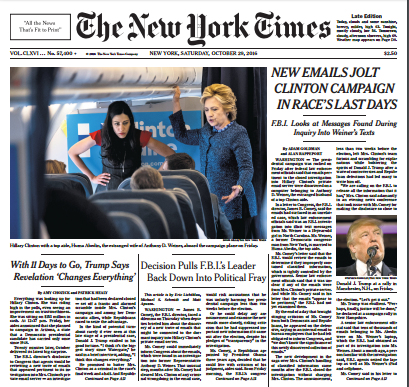 Nothing like a little light obstruction of justice:
The Justice Department also subpoenaed surveillance footage from Mar-a-Lago recorded over a 60-day period, including views from outside the storage room. According to a person briefed on the matter, the footage showed that, after one instance in which Justice Department officials were in contact with Mr. Trump's team, boxes were moved in and out of the room.

That activity prompted concern among investigators about the handling of the material. It is not clear when precisely the footage was from during the lengthy back-and-forth between Justice Department officials and Mr. Trump's advisers, or whether the subpoena to Mr. Trump seeking additional documents had already been issued.

In recent months, investigators were in contact with roughly half a dozen of Mr. Trump's current aides who had knowledge of how the documents were handled, two people briefed on the approaches said. At least one witness provided the investigators with information that led them to want to further press Mr. Trump for material, according to a person familiar with the inquiry.
The election that ended up destroying reproductive freedom in America — with an outstanding Supreme Court vacancy! — was dominated by coverage of a grade-D scandal involving the information security practices of Trump's opponent. True story!
The only difference between anti-anti-Trump Republicans and full-on MAGA Republicans is the level of bad faith:
Imma go ahead and say this is not, in fact, a "view from the truly detached." pic.twitter.com/KAq5dij0tX— Nicholas Grossman (@NGrossman81) August 10, 2022
I mean, if the story Team Trump is going with after about half an hour is "the feds planted evidence!" what does that tell you?