Speaking of madness and ideology
Comments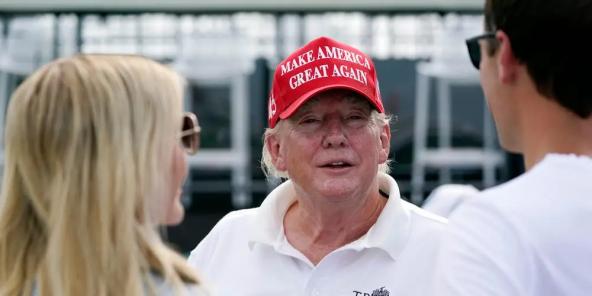 I challenge commenters to come up with a statement more inaccurate than this one:
You can and should critique the traditional definition of virtuous masculinity while still recognizing that this cowardly boastful vain fop and the representation of traditional masculine virtue have no overlap whatsoever.
To believe the opposite is either frankly delusional, or the word delusional has no meaning.
. . . Just saw this:Donald Trump on Thursday praised Saudi Arabia's backing of the LIV Golf tournament at his Bedminster, New Jersey, club. Asked about the families of 9/11 victims who plan to protest the event because of Saudi Arabia's involvement, the former president told an ESPN reporter, "Nobody's gotten to the bottom of 9/11, unfortunately."
. . . . Trump especially appeals to men who are insecure about their manhood.
My friend Steve on the Saudi golf thing:
This isn't just him spouting off idiotically as usual. This is him covering for the Saudis after getting a lot of money from them. And after they gave his son-in-law control of $2 billion (~$40M in direct fees, and the rather unsupervised power to invest that money in any little thing he fancies). Those payments were in themselves related to Jared's and Trump's shielding of MBS from any consequence for Khashoggi. (Trump: "I saved his ass.")

Another example of things being out in the open so nobody can get a Pulitzer for discovering them as a blockbuster scoop. So it just sort of sits out there, drawing a "huh" or two.