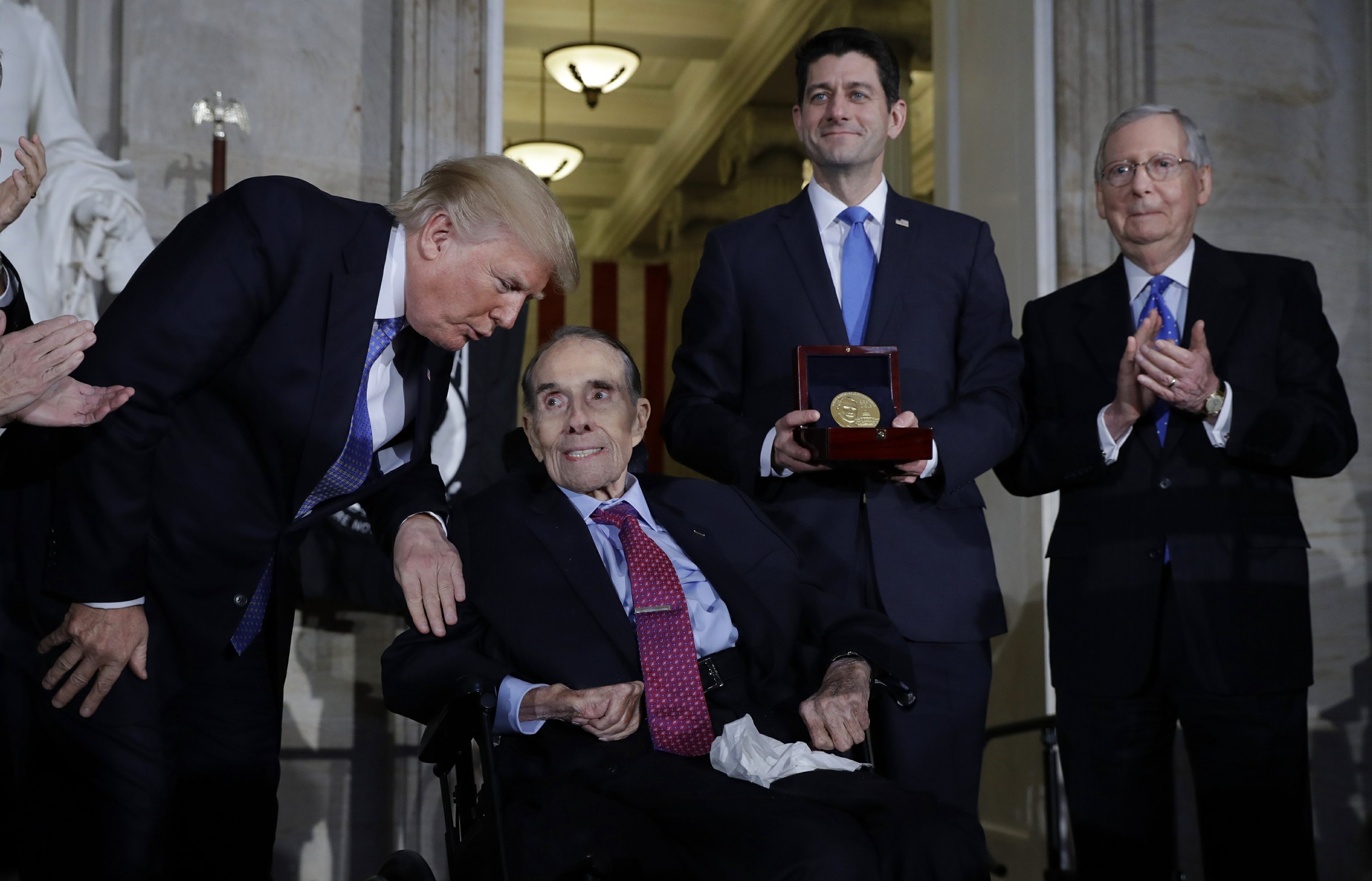 Bob Dole died today. I'm not going to try to do a full obituary, for the same reason I'm not going to try to hit a three-point shot if Steph Curry is in the gym.
So here's an appetizer for the main course I hope we're served soon:
Dole was a crusty old bastard: he seemed to 16 year old me to be about 100 years old in 1976, when he was Gerald Ford's running mate; it's an odd fact that until today this year three of the four candidates on the two major party presidential tickets from an election 45 years ago were still alive. He was wounded badly in WWII. This left him permanently disabled, which no doubt played a huge role in his support for the Americans With Disabilities Act. Having said that, I've exhausted the good things I can think of regarding this "lion of the Senate."
Dole was, along with Ronald Reagan, just about the only prominent Republican who supported Dick Nixon right to the bitter end in 1974. He was one of the few establishment GOP figures who endorsed Donald Trump in 2016, and after four years of Trumpism he didn't change his mind about that.
Today of course all Respectable People from Joe Biden on down are heaping praise on this SOB, which reminds me of something Orwell wrote a couple of years after James Joyce died:
The academic critics could not resist the opportunity to kick Joyce's corpse. The Times gave him a mean, cagey little obituary, and then—though The Times has never lacked space for letters about batting averages or the first cuckoo—refused to print the letter of protest that T. S. Eliot wrote. This was in accordance with the grand old English tradition that the dead must always be flattered unless they happen to be artists. Let a politician die, and his worst enemies will stand up on the floor of the House and utter pious lies in his honour, but a writer or artist must be sniffed at, at least if he is any good. The entire British press united to insult D. H. Lawrence ('pornographer' was the usual description) as soon as he was dead. But the snooty obituaries were merely what Joyce would have expected. The collapse of France, and the need to flee from the Gestapo like a common political suspect, were a different matter, and when the war is over it will be very interesting to find out what Joyce thought about it. Joyce was a conscious exile from Anglo-Irish philistinism. Ireland would have none of him, England and America barely tolerated him. His books were refused publication, destroyed when in type by timid publishers, banned when they came out, pirated with the tacit connivance of the authorities, and, in any case, largely ignored until the publication of Ulysses. He had a genuine grievance, and was extremely conscious of it. But it was also his aim to be a 'pure' artist, 'above the battle' and indifferent to politics. He had written Ulysses in Switzerland, with an Austrian passport and a British pension, during the 1914-18 war, to which he paid as nearly as possible no attention. But the present war, as Joyce found out, is not of a kind to be ignored, and I think it must have left him reflecting that a political choice is necessary and that even stupidity is better than totalitarianism.
. . . Warren Terra in comments reminds us of this lovely moment:
The iconic Bob Dole scene really should be from a couple of years ago, when the US Senate was debating ratification of a UN treaty that was based on the Americans with Disabilities Act, Bob Dole's signature accomplishment and the one decent thing in his long career in public life, and a wheelchair-bound Dole was literally wheeled onto the Senate floor to lobby his former colleagues, the caucus he led for over a decade before resigning that office to literally lead their entire party as its Presidential nominee, and all his good friends told him to fuck off and voted ratification down, because the modern Republican party has no place either for extending decent treatment to the vulnerable or for foreign treaties.