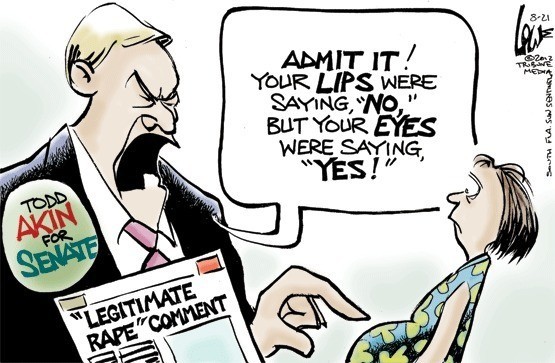 The man who helped Democrats keep the Senate for two more years through misogynist buffoonery is dead:
In mid-2012, Republicans appeared to be on the brink of reclaiming control of the U.S. Senate, an impressive feat given the supermajority Democrats had mustered as recently as 2009. But that reconquista was delayed for two years, in no small part because two Republican Senate candidates in very red states crashed and burned after making inflammatory comments about abortion bans that did not include exceptions for rape.

The first, more memorable disaster was the implosion of the candidacy of Missouri congressman Todd Akin, who died this weekend at the age of 74. Expected to dispatch Democratic senator Claire McCaskill in a state trending hard to the GOP, Akin went down the tubes after an August 2012 interview that went very wrong, as Politico reported at the time:
Speaking to Charles Jaco on the Jaco Report on St. Louis's Fox station, Akin was answering a question about allowing abortions in the case of rape. He said, "If it's a legitimate rape, the female body has ways to try to shut that whole thing down."

Akin, who is attempting to oust Democratic Sen. Claire McCaskill, also stated that if a women did conceive after a rape, he would still oppose abortion in this case because "the punishment ought to be on the rapist and not attacking the child."
The implied suggestion that pregnant women who suffered rape were probably lying about it was politically deadly. It played right into McCaskill's strategy of depicting Akin as a right-wing extremist. Then, a few months later, Richard Mourdock of Indiana blew up his Senate campaign when he said pregnancies produced by rape were "intended by God." The dual disasters in Missouri and Indiana led to a boom era for Republican consultants like Kellyanne Conway who counseled male candidates on how to sound less piggy.
Of course, if Akin was running in 2018 he could have said all this and worse and still won. (Halwey is just a dorkier and smarmier Akin.) Which isn't to say that extremist positions on abortion per se have gotten any more popular:
Trying to imagine the headlines and op-eds forecasting electoral doom if Dems passed something this unpopular https://t.co/AGuwHwFCGg— Michael Tae Sweeney (@mtsw) October 4, 2021