Emma Raducanu and Leylah Fernandez
Comments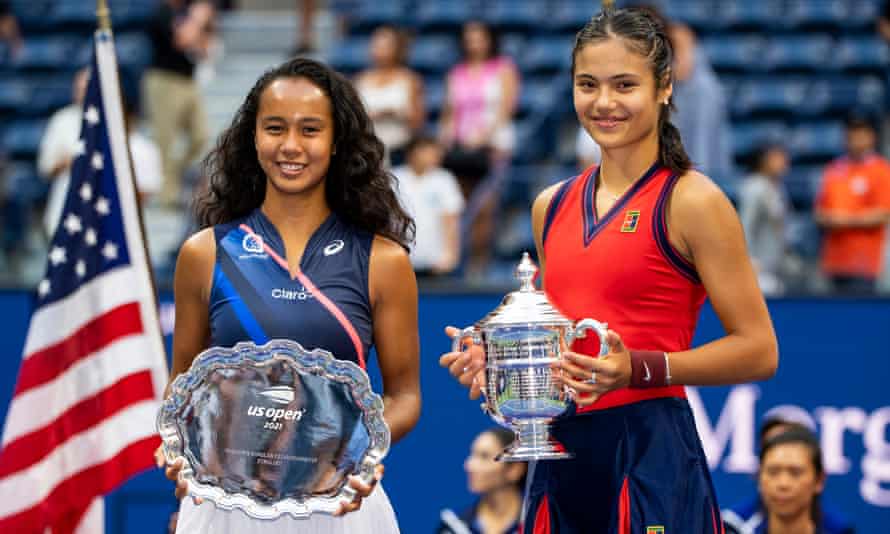 As part of LGM's extremely intermittent tennis coverage, I wanted to flag a couple of aspects of 18-year-old Emma Raducanu's victory over 19-year-old Leylah Fernandez at the US Open's women's final on Saturday.
First, if you're not a tennis fan it's difficult to convey exactly how improbable Raducanu's accomplishment was. Raducanu turned pro three and half years ago, at the age of 15. From March of 2018 to March of 2020, she played tournaments in the equivalent of women's professional tennis's minor leagues. She had some limited success at this obscure level, but she never achieved a world ranking of higher than 361 (meaning she was the 361st highest ranked women's player in the world). She made a total of $34,000 over these two years of play, which of course is a sum that didn't come anywhere close to the costs she had to incur (coaching, training, travel) to play professionally.
Then when the COVID epidemic hit in March of last year, all the professional tennis tours shut down for several months. When play began again in late summer, Raducanu decided to concentrate on her high school studies instead, and didn't resume playing until this past June, when she received a wild card entry into her very first WTA event (this is the top women's tour). She lost her first match, and her ranking remained in the mid-300s — far too low to qualify for a direct entry into any WTA tournament.
Indeed her ranking was far too low to qualify her to play in the qualifying tournament that precedes any major tournament. But because British women's tennis is very short on highly ranked players at the moment, she received a wild card entry into Wimbledon in July, where shockingly enough she won three matches in the main draw, reaching the round of 16 before withdrawing from her match because of hyperventilation. Note that until this tournament Raducanu had never even played — let alone beaten — anyone ranked in the top 100, so reaching the round of 16 in the sport's biggest tournament was a startling result.
But that was nothing compared to what was to come. Because her Wimbledon result raised her ranking by nearly 200 places, to 150th in the world, Raducanu was highly ranked enough to qualify for the "qualies" of the US Open — the tournament to get into the main draw of the US0, one of the other three biggest tournaments, along with Wimbledon, in the tennis world. She then proceeded to win all three of her matches in straight sets.
It's very rare for a qualifier to win more than one or two matches in the main draw — Raducanu's run to the 4th round at Wimbledon was nearly unprecedented. But at the USO, this 18 year old who had never even played a top-level tour match until this summer proceeded to win all seven of her matches, and in straight sets no less, while never even being pushed to a tiebreak in any set.
Raducanu's victory in the tournament — surely the most unlikely in history of top level professional tennis — obscured what would otherwise have been a remarkable Cinderella story in its own right: the run to the finals of 19-year-old Canadian Leylah Fernandez, who entered the tournament ranked 52nd in the world.
Which brings me to the second point I wanted to mention, which is how the biographies of these two young women epitomize why the kind of ethno-nationalist chauvinism that has had such a massive effect on the politics of both the USA and the UK in the last few years (and to a lesser extent Canada) is so harmful and immoral.
Raducanu was born in Toronto to a Romanian father and a Chinese mother, and moved to the UK when she was two years old. Fernandez was born in Montreal to an Ecuadorian father and Filipino-Canadian mother. (These two sentences should give Stephen Miller a heart attack all by themselves, and it is my most prayerful hope that they do).
Georgiana Lawton in the Guardian sounds an appropriate cautionary note:
I'm tired of the hypocrisy and circularity in the debate around multiple-heritage individuals who are praised only when they do well or are exceptionally talented. In 2014, Nigel Farage infamously said, "I was asked if a group of Romanian men moved in next to you, would you be concerned? And if you lived in London, I think you would be," before later backtracking. In 2013 Boris Johnson, then mayor of London, warned the government against taking in more Romanians and Bulgarians on the basis that their largest contribution was towards rough sleeping quotas in the capital. Hostile immigration conditions created by the ruling party and upheld by certain sections of the media have seen eastern Europeans and other migrant groups vilified for years, while systemic racism against black and minority ethnic groups in England persists.

Johnson and Farage's kind words were thus an extraordinary display of hypocrisy in terms of valuing the lives of people who choose to make Britain their home. Raducanu is living proof of the way a country that celebrates cultural difference can succeed. But many people of colour in Britain intimately understand that there are certain unspoken rules about the "good" and "bad" immigrant – the desperate and needy few who come to our shores are shown the door, while a few exceptional individuals are held up as proof that all is well.

One can't help but think back to the Euro 2020 final against Italy earlier this year, when three young black England players were subjected to vile racism on social media after missing penalties. For many it proved what is felt but rarely voiced: we are British when we succeed, but told to pack our bags when we lose.
In any event, with luck this will be just the first of many matches between these two remarkable young women, emblematic as they are of the increasingly cosmopolitan world that demagogues like Donald Trump and Nigel Farage exploit for the purposes of stoking white rage in their respective countries.