Author Page for Scott Lemieux
When there was talk of Leo Mazzone leaving the Braves for the Yankees, I was torn between my social scientist side and my despise-the-Yankees-with-the-intense-heat-of-a-million-suns side. I certainly didn't want the Yankees to benefit from him, but I was interested to see how the Braves would do without him, and whether he could turn around pitchers to the same extent elsewhere. Of course, he ended up joining the Orioles, which is sort of the best of both worlds. It's also interesting because the Orioles have a lot of talented but erratic arms (although they play such a brutal schedule–even the Devil Rays have a pretty decent offense–it's not entirely fair.)
My own judgment is that Cox–who was also great with pitchers in Toronto–has a lot more to do with this than is commonly assumed, and I don't think the Braves' pitching will suffer noticeably. But that's why they play etc.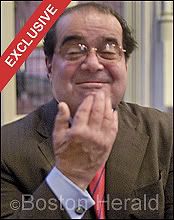 The rule of law? Vaffanculo!
Between Scalia's recent civility and judicial conduct issues and attending this excellent (if depressing) conference last Friday I was reminded of my favorite assessment of Bush v. Gore, Kim Lane Scheppele's "When the Law Doesn't Count: The Rule of Law and Election 2000." It does a marvelous job of analyzing all of the legal issues, as well as adding interesting comparative perspectives. It's all worth reading if you're into this sort of thing, but a couple of points are worth extra emphasis. One of the countless ways in which the decision was utterly lawless that I haven't mentioned was the obvious Catch-22 the Supreme Court presented the Florida courts with. The Court ruled that the recount ordered by the FSC violated equal protection because the recount didn't have a uniform standard; and, of course, the recount didn't have a uniform standard because the Supreme Court told the Florida courts not to use one. As Scheppele points out, to be engaged in this kind of gamesmanship is not be meaningfully engaged in "law" at all:
The U.S. Supreme Court majority in the story of the 2000 election seems to have taken its inspiration from the Knights Who Say NI! in the Monty Python version of the Arthurian legend. Dressed in dark uniforms and towering above the petitioners who came before them, the Justices of the Supreme Court possessed the magic words that, when shouted in chorus, caused those who needed their permission to proceed to cower before them. For it was by pronouncing the magic words that the Supreme Court Justices could cause the most self-confident pretender to the throne to slink away. And, as in the standard fairytale, the Court could set a challenge for the pretender to the throne who, if he met the challenge, must be allowed to get what he sought. The majority's reading of the fairytale requirements, however, follows Pythonesque conventions rather than the standard ones, and it deviates substantially from what the emerging comparative constitutional standard for rule of law would require.

Between Bush v. Palm Beach County Canvassing Board (the protest phase case) and Bush v. Gore (the contest phase case), the Supreme Court turned itself from the Knights Who Say NI! into the Knights Who Go Neeeow … wum … ping!, no longer "contractually bound" to be satisfied by a litigant who met the challenges that were set originally and who was therefore looking to pass. Transforming itself into the Knights Who Go Neeeow … wum … ping!, the Supreme Court had other ideas. In its new guise, instead of being satisfied by a shrubbery brought before it designed according to their initial request (a solution crafted under a literal reading of the Florida statute), the majority insisted on a new shrubbery with a totally different design (federal constitutional equal protection analysis rather than the literal wording of the Florida statute set the standard). New magic words were necessary to pass through this part of the dark forest of the law, except that the Knights had obviously tired of the game and so simply declared it over.

What is wrong with this, on a rule-of-law account? A great deal, but let me concentrate on two things in particular:

(1)The Whipsawing Problem: There was an apparent shift in the legal frameworks that were found to be important as one case followed another, leading to a sense that the applicable law was not stable and making it very difficult for anyone to orient their conduct in light of the law either before, during, or after the sequence of litigation.

(2)The Impossibility Problem: There was, in the per curiam opinion in Bush v. Gore, an announcement of two crucial legal conclusions – that an equal protection test applied to court-ordered vote-counting procedures and that 3 U.S.C. 5 combined with a "legislative wish" required that recounts not be extended past the December 12 "safe harbor" date. But these two conclusions worked at cross-purposes. Meeting one required violating the other, and vice versa. With this logic, there was simply no place left to stand to claim a remedy that the law seemed to allow and perhaps even to require. The election was declared over as it stood at the moment the Court issued its decision, and no state has ascertained whether the results as they stood on the evening of December 12, 2000 met the equal protection standards the court laid down.

From all of this, we might legitimately wonder whether the United States in fact decided its most recent presidential election according to any coherent law at all.
Between the moving goalposts and the fact that the remedy was completely indefensible given the purported constitutional violation, Bush v. Gore was wholly unprincipled even leaving aside the lack of precedent for the legal argument and the glaring contradictions with the past jurisprudence of at least three members of the majority.
Scheppele also demolishes the claim recently made by Scalia that the Court had no choice but to rule because it was dragged into the case by a politicized Florida court. This implies that the court violated the clear language of the Florida election statute to produce a desired outcome. But Scheppele points out numerous "infelicities" in the Florida election statutes, pointing out the vague language and internal contradictions that make the readings of both the majority and dissenting opinions of the FSC perfectly plausible. Particularly important are infelicity #4 ("In the "contest" phase under Florida election law, a candidate who still believes that there are serious flaws in the election tallies may challenge the certification of the election results. Unlike in the protest phase when the complaint goes to the county canvassing boards for their resolution, the contest phase sends all complaints directly to the Florida courts, which are given very broad latitude to investigate and fashion remedies to fix any complaints they find to be valid. But this great judicial power does not come with many critical constraints – the most crucial one in the presidential electors context being whether there are any deadlines in the process") and #5 ("If a judge decides that a contest identifies a legitimate problem, then under section 102.168(8) of the Florida Statutes Annotated, the judge can "provide any relief appropriate under such circumstances." There is no further guidance to the judge.") The idea, then, that the FSC "usurped" the power of the Florida legislature is absurd: the legislature, in fact, delegated broad powers in resolving election disputes to the courts. And, as I mentioned yesterday, the FSC used a contestable but plausible reading, and it adhered to this reading consistently whether it helped Gore or Bush.
So the claim made by Rehnquist, Scalia and Thomas that the Florida Supreme Court wasn't engaged in jurisprudence at all couldn't be more implausible–but it certainly is a reasonable description of their own work. A mild obscene gesture would be a polite way of responding to Scalia's next pompous lecture about the alleged failures of other judges.
If you saw Atrios' post today but you don't read The Stranger, Seattle's fine alt-weekly, and only know "Savage Love," you may not be aware of how abjectly bad Dan Savage's writings before the war were. We're not talkng about tortured, reluctant, careful support of the war without demonizing its opponents here. Savage, a genuinely first-rate editor, when writing about politics is highly prone to shallow, self-congratulatory contrarianism, and his defense of the Iraq war was as demagogic as Reynolds, as naive as Totten, as ignorant of basic facts and counterarguments as…well, insert name of pretty much any Keyboard Kommando here. Allow us to revisit his less-than-prescient proclamations. We start with an old classic, "the left is objectively pro-Saddam, unlike that sincere liberal internationalist Dick Cheney:"
While the American left is content to see an Iraqi dictator terrorizing the Iraqi people, the Bushies in D.C. are not. "We do not intend to put American lives at risk to replace one dictator with another," Dick Cheney recently told reporters. For those of you who were too busy making papier-mache puppets of George W. Bush last week to read the papers, you may have missed this page-one statement in last Friday's New York Times: "The White House is developing a detailed plan, modeled on the postwar occupation of Japan, to install an American-led military government in Iraq if the United States topples Saddam Hussein."
Hopefully he's learned by know that discussing how bad "A" is does not compel action without an analysis of what option "B" is and what opportunity cost "($*trillions and trillions)" is.
Wait, it gets worse. The American left, we're told, consists entirely of pacifists:
Because claiming this victory means backing this war, and the American left refuses to back this or any war–which makes the left completely irrelevant in any conversation about the advisability or necessity of a particular war. (Pacifism is faith, not politics.) What's worse, the left argues that our past support for regimes like Saddam's prevents us from doing anything about Saddam now. We supported (and in some cases installed) tyrants, who in turn created despair, which in turn created terrorists, who came over here and blew shit up… so now what do we do? According to the left, we do nothing. It's all our fault, so we're just going to have to sit back and wait for New York City or D.C. or a big port city (like, say, Seattle or Portland) to disappear.
Yes, well, except for the fact that the vast majority of the American left supported not only the Kosovo intervention but the invasion of Afghanistan, and pacifism is a fringe ideology with about as much influence in American politics as the use-legalized-hemp-to-free-Mumia lobby. Which leaves us with two options: either Savage defines "the American left" as "the socialist cranks handing out fliers on John and Broadway", or he's entirely full of shit. Anyway, moving past a few more strawmen, we get this doozy:
But wait! Iraq isn't in cahoots with al Qaeda, so why attack Iraq in the war on terrorism?

Because we're not just at war with al Qaeda, stupid. We're at war with a large and growing Islamo-fascist movement that draws its troops and funds from all over the Islamic world. Islamo-fascism is a regional problem, not just an al Qaeda problem or an Afghanistan problem. To stop Islamo-fascism, we're going to have to roll back all of the tyrannous and dictatorial regimes in the Middle East while simultaneously waging war against a militant, deadly religious ideology.
Omitted: an explanation of how replacing a (certainly brutal) secular dictatorship with a Shiite theocracy that relies on sectarian militias for basic social control represents a blow against "Islamo-fascism."
And, finally, we end up with this old favorite, the Domino theory:

In the meantime, invading and rebuilding Iraq will not only free the Iraqi people, it will also make the Saudis aware of the consequences they face if they continue to oppress their own people while exporting terrorism and terrorists. The War on Iraq will make it clear to our friends and enemies in the Middle East (and elsewhere) that we mean business: Free your people, reform your societies, liberalize, and democratize… or we're going to come over there, remove you from power, free your people, and reform your societies for ourselves.
Yeah, thank heaven for the invasion of Iraq, or an increasingly reactionary Iranian government might be pursuing nuclear weapons, with the full knowledge that we can't do anything about it because are troops are stretched to the breaking point elsewhere. Whew, feel the wind of freedom!
So, you know, it's nice that he's now seen the light about Bush's war, but if I were him I would think a little modesty might be in order.
I'm not going to pretend to be scandalized by Scalia's apparent before-the-fact discussion of the merits of Hamdan v. Rumsfeld. I certainly don't hold the naive view that Supreme Court justices approach cases with an open mind ready to be persuaded of anything, and in particular oral arguments at the Supreme Court level mean very little (and, indeed, I have defended Justice Thomas from ignorant claims that anything can be inferred from the fact that he rarely speaks at oral argument.) Still, there is something about what seems to be a pretty clear violation of the court's norms that's offensive, particularly from Scalia, who attacks his colleagues frequently and pompously for alleged deviations from proper judicial practice. (As Dahlia Lithwick points out, he's becoming more and more the Bill O'Reilly of the Supreme Court.) Particularly galling is Scalia's claim in the interview that the Florida court in 2000 was "politicized," when in fact it consistently applied a perfectly defensible interpretation of the Florida statutes even though this interpretation favored Bush in a majority of cases. (A "politicized" court, for example, surely would have thrown out technically illegal non-postmarked absentee military ballots that almost certainly favored Bush.) Bush v. Gore, conversely, was both completely unprincipled on its face and completely irreconcilable with any substantive legal view or theory of interpretation previously expressed by Scalia, and his stay opinion all but assumes that his preferred candidate was entitled to the Presidency. As Goldstein points out, it's impossible to say whether Scalia is bound to recuse himself, but his comments are, at least, highly grating.
Yesterday's oral argument, however, did seem to give some reason for optimism. Both Lyle Denniston and Linda Greenhouse think there are probably five votes to hear the case rather than using a jurisdictional dodge or accept the argument that Congress stripped the Court's jurisdiction, and both seems to think (as does Lithwick) that it's very possible that the government will not win on the merits. (In case you're wondering, the government won at the previous level, so 5 votes are still necessary to curtail the government's authority despite Roberts' recusal; a tie would mean the upholding of the military commissions.) Scalia (and, of course, the hyper-statist Alito) were predictable, as Greenhouse reports:
Of the other members of the court, Justice Antonin Scalia appeared most supportive of the administration. He intervened several times to offer Mr. Clement a helping hand, something the solicitor general rarely needs but accepted gratefully.

For example, Justice Kennedy was questioning Mr. Clement on the government's position that even if the court had jurisdiction, it should abstain from ruling on the validity of the military commission until after Mr. Hamdan's trial.

Justice Kennedy said he found the argument troubling, pointing out that Mr. Hamdan was arguing that because the commissions lacked the procedures required by the Geneva Conventions, they were invalid. "The historic office of habeas corpus is to test whether or not you're being tried by a lawful tribunal," Justice Kennedy said. "And he says, under the Geneva Convention, as you know, that it isn't."

Mr. Clement replied that Mr. Hamdan could raise that argument later, before the military commission itself. He predicted that the argument would fail and said that in any event, there was no reason "why that claim has to be brought at this stage."

Justice Scalia then jumped in to support the solicitor general. "In the normal criminal suit," he said, "even if you claim that the forum is not properly constituted, that claim is not adjudicated immediately."

Along with Justice Scalia, Justice Samuel A. Alito Jr. also appeared to support the argument that the court should allow the trial to go forward. Justice Clarence Thomas alone asked no questions.
Hopefully there will be 5 votes to reverse, so that Scalia's failure to recuse himself won't end up mattering.
Good one this week, as he slices and dices the Reynolds/Goldstein "the media did it" argument.
Which reminds me: Dave recently noted in comments that Reynolds appeared on Hewitt's radio show and compared media coverage of Iraq to Southern media coverage in the Jim Crow era. Mickey Kaus, of course, thought this was a good point. I'm not sure the phrase "a new low" can usefully be associated with either gentleman, but using the struggle against Jim Crow apartheid as a shield to defend feeble tautologies about how everything would be good well in Iraq if it wasn't for that pesky Emm Ess Emm tempts me to use it anyway.
The Editors remind us of the most risible piece of Domenech apologism–Tacitus' argument that his critics were motivated by not by, say, his red-baiting of Coretta Scott King on the day of her funeral, or the fact that he's an unqualified hack, but by…a hatred of parents! (In fairness, The Left's similar hatred of apple pie goes unmentioned.) It's sort of the ultimate Tacitus post: prolix, not merely spectacularly wrong on the merits (in retrospect you have to particularly enjoy the claim that "the left's frenzy over WaPo's Red America is turning out to be a good thing") but premised on a ludicrous non-sequitur, minor-league McCarthyite mention of a professor's institutional affiliation without engaging their actual argument, citing an incredibly shoddy Michelle Malkin relieve-the-suckers-from-their-cash "book" as if it was a piece of serious research, and of course a pretension-to-achievement ratio that far exceeds that of Ryan Adams, Matthew Barney, and Andrew Lloyd Webber put together. It's good that we can at least get a good laugh out of this fiasco…
Garance Franke-Ruta has followed up her terrific article demonstrating the lack of pro-choice women on the op-ed pages of eventheliberal New York Times by making two excellent additional points. The first–that not a single "pro-life" group takes a position in favor of contraception–is, of course, extremely telling about the purposes of the criminalization lobby. Her second point is that this abortion discourse is dominated by wishy-washy nominally pro-choice but also pro-regulation men, who use rhetoric that tends to be very hostile toward women who actually get abortions, and make a number of dubious assumptions. In a way, the prevalence of this opinion is evidence of elitism on the nation's major op-ed pages, although in a different way than is commonly assumed. It's not that the pro-choice position is more popular among elites than mass opinion; this is the one cultural issue for which this isn't true. It's that the "centrist" position on abortion is, in and of itself, highly elitist. Most people aren't quite as bald about it as Richard Cohen, but there's something particularly appalling about the "no women I know will be affected if Roe is overturned, so what do I care?" argument. The centrist position on abortion–whether of the center-left or the center-right–is the ultimate in moral self-gratification: it allows men to display their moralistic bona fides, while the burden falls almost exclusively on poor rural red-state women, as opposed to the women who travel in the geographic and social circles of the affluent blue-state men who generally write centrist op-eds.
There is a further problem here, however: the complete disjuncture between the purported goals of abortion "centrists" and the actual effects of the regulations they support. It's important to make a distinction between the moral and legal position of abortion centrists, which they constantly blur to disguise the fact that there's no rational connection between the two. It's defensible, whether one agrees with it or not, to believe that some abortions are more morally problematic than others, and that it varies based on context. But abortion regulations have nothing to do with that. In some cases, they're openly contradictory: Patterico argues that "many of us who are uncomfortable with abortion become more so as the fetus advances in age"–a common argument among both the center-right and center-left–but of course creating regulatory obstacle courses makes later-term abortions more likely. But even when there isn't an obvious contradiction, there's no rational connection between the regulations and the moral position (and in the case of arbitrary bans on medical procedures given scary scientifically meaningless names, no rational connection with any purpose.) Abortion regulations don't inscribe "centrist" moral positions into law: they just give more decision-making power to third parties for no good reason, and make abortion access more inequitable. Lizardbreath recently made this point very effectively:
(1) Regulations of this sort don't discourage abortion in any targeted way. If you believe that abortion is always a wrong decision, regardless of the woman's individual circumstances, I'm not talking to you right now – go over and sit with the committed, consistent pro-lifers. If you think that there are circumstances where a woman should be able to decide for herself whether to have an abortion, whatever you think those circumstances are, you have to recognize that these regulations aren't going to preferentially discourage the abortions you disapprove of. Regulations requiring waiting periods are going to discourage poor women, who can't get consecutive days off from work or can't afford an overnight stay near the provider. Spousal notification regulations are going to discourage women with bad or fearful relationships with their husbands. Nutty "safety" regulations (such as those requiring an abortion clinic to have a written transfer agreement with a hospital to accept emergency patients — what, the hospital would otherwise refuse to accept emergency patients because they came from an abortion clinic?) raise the costs, travel and otherwise, of abortions, and so discourage poor women. None of them are going to preferentially discourage women who don't take abortion seriously, women who use abortion as birth control, or any other category of women whose abortion decisions you disagree with.

If you think that abortion is always a difficult moral decision, but is sometimes the least of the available evils, regulations like this don't bear any relationship to discouraging abortion when it's the wrong decision and allowing it when it's the right decision. All they do is serve as obstacles, making abortion available for affluent women in comfortable circumstances, and closing it off for poor women or women in difficult family situations. This isn't right, and it isn't just.

(2) Taking these regulations at face value, people who favor them don't trust women. If we take mandatory counseling, waiting periods, and spousal notification regulations at face value as regulations intended to address the concerns of moderate pro-lifers (rather than assuming that they are cynically favored by pro-life absolutists who know that they can't pass absolute abortion bans, and so favor any regulation, however irrational, making abortion more difficult to obtain) they reflect a mistrust of women as moral decision-makers.

The nominal goal of such regulations is to make the woman concerned consider additional information and opinions or spend additional time thinking about whether she should or should not have an abortion. Isn't it clear that this reflects an opinion that women, if unregulated, will make abortion decisions flippantly or thoughtlessly? It's not a simple case of saying that the woman involved has interests that are opposed to those of the fetus, and that she therefore, as an interested party, can't be permitted to make the decision. These regulations still leave the decision in the woman's hands – they just assume that women, as a class, can't be trusted to inform themselves of the relevant facts and make abortion decisions thoughtfully and after moral deliberation. That assumption, made by someone who has considered it explicitly, reflects a profound contempt for women as moral decision makers.
Both of these points are exactly right. First, abortion regulations do nothing to ensure that women will only have abortions under conditions that either Patterico or Will Saletan will find acceptable (leaving aside the question of why their opinion on a highly contestable moral choice should matter more than the woman whose life is actually at stake in the first place.) Rather, as I've argued before, the effect of these regulatory obstacle courses is abortion-on-demand for affluent women in urban centers and highly restricted abortion for other women (even if these women are having abortions for reason Lord Saletan finds tolerable.) And the elitism here is again manifest: some women can be trusted with the decision, but others cannot. And, second, the effect of many of these regulations is to transfer decision-making authority from women to doctors, again for no good reason. Pro-lifers are right, in a sense, to say that the vague language of health exemptions mean that the decisions are really ethical, not medical decisions. But the problem is, if the decision is moral or ethical (as opposed to medical), why should doctors, rather than women, be entrusted with the final decision? It doesn't make any sense. The "centrist" moral position on abortion is potentially defensible, but the regulatory schemes that have been grafted on to this position to make these centrists feel better about themselves have no connection whatsoever to the underlying ethical argument.
I see Patterico, in an extremely rare move, has actually tried to defend the transparently indefensible GOP abortion platform. Alas, it is a complete failure, as generally tends to happen when you make arguments on behalf of claims that are self-evidently wrong. His arguments defending abortion regulations I'll pick up in a follow-up post tomorrow. (UPDATE: it's here.) And with respect to his claim that not equating abortion with murder (which was, of course, the focus of Amp's original post) "doesn't mean that we are happy about abortion. We would like to see fewer of them," it's remains unclear why pro-lifers would focus on criminalization, which is a highly ineffective and inequitable way of reducing abortion rates. Bans on "partial-birth" abortions are, of course, simply irrational, and since they don't save a single fetus but do endanger women's lives, they can't even be defended in "half-a-loaf" terms. But let's focus on the his attempt to defend the pro-life tactic that gives away the show, the argument that abortion is a serious crime when doctors do it but not when women pay them to perform one:
Even when the policy is expressly designed to accomplish the exact opposite of punishing women, this guy employs sophistry to make the policy appear to be designed to punish women. For example, in his very first example, he argues that abortion bans which protect the mother from any legal consequences are designed to punish women, even though they are expressly designed to protect women from punishment. Meanwhile, they are inconsistent with equating abortion with murder, because you wouldn't punish a contract killer and not the person who hired them.

Of course, the guy misses the fact that sensible people would rather not haul women into court and prosecute them for abortions. Morally blameworthy or not, these women are often more pathetic and desperate than the doctors who kill dozens or hundreds of babies a year. Given that juries may well nullify if forced to judge the guilt of such women, it makes perfect practical sense to pass a law targeting the doctors but not the women.
With respect to the claim that this policy doesn't actually "punish" women, Neil and Amanda have already taken care of it. So let's discuss the many other reasons this is abject nonsense from A to Z:
There's nothing "sensible" about not wanting to haul women into court

given pro-life premises

. It's simply can't be a serious crime when doctors perform them but not when women choose to get them. The quantity is beside the point; 100×0 is still zero. The contract killing analogy remains 100% accurate. There is simply no rational justification for making abortion a criminal offense but refusing to apply any sanctions at all to the person who has the greatest moral responsibility for the action.
And, of course, giving away the show is the "pathetic or desperate" excuse. First of all, it is facially asinine–if we can't prosecute people who are "pathetic or desperate," the jails are going to get pretty empty. And, of course, we're right at the heart of the matter: women who get abortions don't really bear responsibility; after all, if they were rational they would obviously agree with Patterico. But we can't hold these silly, hysterical women responsible for what we consider criminal acts as we would anyone else. The sheer contempt for women here couldn't really be more obvious; again, it's not an accident that the exclusion of women from punishment under abortion laws is a relic of the 19th century. (And, of course, since as we know Patterico seems to think that the state has exactly the same interest in regulating children and adult women, this isn't surprising.)
And the jury nullification argument won't fly, because barring a serious injury juries have typically nullified attempts to prosecute

doctors

too, even when social mores against abortion were stronger. And moreover, if abortion laws are going to be arbitrarily enforced, what does that tell you about the pro-life argument? Obviously, that the number of truly principled pro-lifers are a very small minority.
Finally, all of this remains true whether or not abortion is exactly the same as murder. Let's say it's more like manslaughter. (I don't see how, since it's premeditated, but let's say.) The argument still immediately collapses. How can it be manslaughter when a doctor performs one, but not even a parking ticket when a women hires someone? Again, at least if you consider women rational, rights-bearing individuals it's simply indefensible. Either you prosecute doctors and women for the crime, or accept that most people disagree with you and leave the criminal law out of it altogether. Period–no other solution is remotely defensible, and fatally undermines the only rational reason for the legislation in the first place.
Now, with respect to his argument that some pro-lifers "believe that they have a lot more to gain through persuasion, education, and peaceful protest," well, hey, fine with me–that's your privilege. But as soon as the criminal law–whether through outright (but hopelessly arbitrary) bans or regulations that affect only the most powerless class of women (more later)–gets involved, then we continue to have a problem. Create a social consensus, develop an actually coherent and rational set of policies, and until then keep the goals of the forced pregnancy lobby out of the statute books.
Just a reminder that voting for the Koufax awards ends tonight. If you're so inclined, you can vote for L, G & M for best series, but make sure to check out all the categories and cast your ballot!
(Admittedly Not Much) Shorter Glenn Reynolds: You illegal immigrants can keep your phony-baloney marching. We'll take your labor, but when you make unreasonable demands on the polity like "not having a significant chance of baking to death when you cross the border" and "not be deported and denied the most basic protections by a nation that structurally depends on your labor," forget it. And Mickey Kaus' analysis of anti-immigration politics in California is remarkably astute–remember how Pete Wilson turned California into a hardcore Republican state? This will be even better for conservatives!
Exciting game, but arrrrrrgh. It's been a bad three months: two Seattle teams in crucial games, both outplayed their opposition, but lost based on key plays by the opposition, bad mistakes in key situations and catastrophically bad officiating. Granted–as Art Thiel, unlike most of the Seattle media accounts I've read, identified–the real key play of the game was the stupid foul Jensen took on Williams' last-minute layup, and that call was certainly legit. But between a gaping foul disparity that wasn't remotely justified by the play, the missed goaltending call in OT, and (by far the most important) the farcically ticky-tack T on Roy–UW was robbed like a student leaving their laptop unattended next to Marcus Williams.
And what's worse is that I wouldn't say it was the worst I've seen in this tournament. I'm surprised that Yglesias didn't mention it (and I certainly don't agree with his premise, or for that matter pretty much any defense of the NBA on any level), but even by NCAA standards the officiating in this tournament has been unspeakably atrocious. There have to be some good college officials somewhere. Doesn't there?
…via Pooh in comments (who offers his own take on the officiating), Deadspin suggests that Calhoun should pour himsef a delicious frosty mug of shut the fuck up. And like me, will be cheering for George Mason, who if they win will be forgiven for employing the man who wrote the worst law review article in world history.