Author Page for Robert Farley
Some links for your pleasure, as snow begins to destroy most of the eastern half of these great United States:
Some projections have Lexington getting up to 15″ of snow tonight, which would mean that three of the top six snowfalls in history would have happened in the last year. That ain't normal.
Oh, and this:
"Hey, I think she just winked at me." – Rich Lowry on Sarah Palin. https://t.co/yTUrkCZQvt

— Robert Farley (@drfarls) January 22, 2016
My latest at the Diplomat looks at Vietnam's decision to consider buying some European fighter aircraft:
Thus, the sale would likely represent a long-term relationship between Vietnam and whatever country is lucky enough to get the sale. It would likely require some technology transfer (especially if Vietnam can generate a competitive bidding process), the presence of engineers and maintenance personnel on the ground, and a long training regimen. The aircraft will (undoubtedly) return to the host country for periodic upgrades and overhauls as new weapon and software systems become available.

Nothing about this is particularly new or novel; buying a fighter jet has become far less about hooking up than establishing a long-term relationship. But it will represent one of the first of these kinds of relationship that Vietnam has established with a Western country. And it says much about Vietnam's long-term strategic outlook that Hanoi is exploring the option in such depth.
In the wake of the big Iranian hostage crisis brief detention, I spoke with Zack Beauchamp at Vox about reputation, toughness, and the US-Iran relationship:
What scholars have found is that when states try to send messages of strength, like these are supposed to be, other states just don't understand them. That it's very hard to send fine-tuned messages to other states: You're just trying to say that you're strong, but the other state may just think that you're being an asshole. So to speak.

Trying to carefully calibrate a message that says, "We're tough and resolute, but we're not dicks," is really hard for states to understand. There's this incentive to lie all the time, on both sides.
At the risk of eventually looking deeply ridiculous, I'm going to have to depart from Paul (and to some extent from Scott) regarding Trump's candidacy. At this point, I'd rate the chances as Cruz 50%, Rubio 35%, Bush 10-15%, and Trump 0-5%.
Cruz's path to the nomination is fairly clear; he wins Iowa, and Trump and the vote in the next few primaries is sufficiently divided between Trump and the remaining mainstream candidates that he wins or does very well in the first few contests.  The Establishment dislikes Cruz, but it will rally around him.
Rubio and Bush have very similar paths.  Each has to do decently enough in Iowa to have an impact on New Hampshire, forcing the Establishment to choose one or the other in order to avoid Cruz or Trump.  I appreciate that it's trendy to be completely dismissive of Bush's chances at this point, but expectations have gotten so low that if he stages any kind of rally in Iowa or New Hampshire, he'll earn a strong comeback narrative and he'll get a lot of his Establishment support back.  Given that he's a known quantity and that the situation is fluid, I would not at all be surprised to see voters go with him as the safe choice.  But then it's also possible he'll be out when polls close in New Hampshire.
My case against Trump is pretty much identical to that of Nate Silver.  The party hates him; he's polling worse in the states that have the earliest primaries than he is nationally; the people who've expressed a preference for him are the lowest information voters and the least likely to actually vote; there are deep questions about his organization (a problem tied to the party hating him); state polls and national polls are extremely volatile in the early going.   I think there's a very strong chance that he'll underperform in Iowa, which will make things very difficult moving forward. It's also important to remember that while we're treating state polls in isolation at this point, that's not at all justifiable. Especially for the first few states, these polls have historically seen wild shifts based on the outcome of the previous contests.
While Trump may see some isolated success, I think the most likely outcome is that he doesn't see the early success he's expecting, and goes on to regularly run second or third for as long as he remains in the race, behind Cruz and whichever of Bush and Rubio survive. In the unlikely event that Trump does win some early primaries, I suspect that the party will fairly quickly unite around Cruz or Rubio, and that Trump will struggle to put together majorities. Either way, he's drawing dead.
The impact of Trump, such that it is, will most likely manifest in giving Ted Cruz the advantage he needs to take the race, although it's possible that Cruz might have won anyway.  The more interesting wild card is, of course, if Trump runs third party; even a limited impact (and I'd say he'll manage something less than Perot '92) will give Clinton a huge advantage in the general.
Apologies for the sparse posting; I continue to endure the sunny warmth of Puerto Rico, and to… um… immerse myself in conference related activities.  Like, for example, this evening's rum tasting, presented by the Southern Political Science Association!
Life is hard.
Anyways, looks like it's all she wrote for the LGM Bowl Mania League:
| RANK | ENTRY, OWNER | PPR | TOTAL | PCT |
| --- | --- | --- | --- | --- |
| 1 | | 38 | 718 | 99.8 |
| 2 | | 4 | 659 | 96.0 |
| 3 | | 34 | 654 | 95.3 |
| 4 | | 9 | 649 | 94.6 |
| 5 | | 1 | 647 | 94.3 |
| 6 | | 29 | 628 | 90.8 |
| 7 | | 35 | 624 | 90.0 |
| 8 | | 33 | 623 | 89.8 |
| 9 | | 39 | 620 | 89.1 |
| 10 | | 12 | 606 | 85.5 |
This, ladies and gentlemen, is what we call an insurmountable lead.  Mr. or Ms. TMTZac should feel free to contact me (address on right sidebar) regarding prize info.
Time to review last year's predictions:
World Series Champion: Washington Nationals
NCAA Football FBS Champion: Oregon Ducks
Number of living Castro brothers, 12/31/15: 1
Academy Award, Best Picture: Boyhood
Number of Mistral class amphibious assault ships delivered to Russia: 1
Number of fatal incidents involving collision between Russian and NATO aircraft: 1
Afghanistan Coalition fatalities: 35 (27)
North Korean nuclear tests: 1
Sunsets on Syria under President of Bashar al-Assad: 365
Number of defeats suffered by Kentucky Wildcats Men's Basketball, 2014-5 season: 0
Heisman Trophy: Dalvin Cook, FSU
Israeli strikes on Iran: 0
Number of formal agreements between Iran and the United States on the future of Iran's nuclear program: 1
Number of Coalition aircraft shot down by ISIS: 1
Supreme Court vacancies: 1
2014 3rd Quarter GDP growth (as per revisions by 12/31/15, +/-.2): 2.8% (1.9%)
F-35 crashes: 1
Barack Obama approval rate, 12/31/15 (+/- .3%): 45.1% (46.7%)
European benchmark Brent oil, 12/31/15 (+/- $2.00): $61 (37.08)
Well, that was just a disaster. And that's even giving me credit for the collision between a Russian aircraft and a NATO missile.
Here's to 2016:
World Series Champion: Los Angeles Dodgers
NCAA Football FBS Champion: Oregon Ducks
Number of living Castro brothers, 12/31/16: 1
Academy Award, Best Picture: The Big Short
American soldiers killed in Iraq/Syria (+/-5): 15
Afghanistan Coalition fatalities (+/-5): 40
North Korean nuclear tests: 1*
Sunsets on Syria under President of Bashar al-Assad (+/-20): 365
Fatal military incidents in South China Sea: 2
Heisman Trophy: Royce Freeman
Israeli strikes on Iran: 0
GOP Presidential Nominee: Senator Ted Cruz
Number of Coalition aircraft shot down by ISIS: 1
Democratic Senators (including Senators elect, caucusing independents): 50
2015 3rd Quarter GDP growth (as per revisions by 12/31/16, +/-.2): 2.6%
Electoral Votes, Hillary Clinton, 2016: 303
Barack Obama approval rate, 12/31/16 (+/- .3%): 50.3%
European benchmark Brent oil, 12/31/16 (+/- $2.00): $45
*I'm going to count this one; was on the list last year, and I can show the timestamp on the draft  revisions…
The Diplomat is running a brief series on historical counterfactuals in East Asia. I contributed this:
U.S. President Harry Truman refused MacArthur's request to expand the war into Manchuria, eventually firing the General and turning command over to Matthew Ridgway, who stabilized the situation in Korea. However, the possible use of atomic weapons in 1950 and 1951 remains one of the great unanswered "what if?" questions associated with the early Cold War. Such a decision would have affected not only the course of the Korean War, but also the broader ideological and military struggle between the United States and the Soviet Union.

So, what if the United State had used atomic weapons against China and North Korea in 1950?
Incidentally, I'll be in San Juan, Puerto Rico for the next four days, enjoying the Southern Political Science Association conference. Happy to have drinks with (what I am sure is) the robust San Juan LGM fan club, or with anyone else attending SPSA.
I'll have a full review up later, but for now I've written a bit about Adolf Tolkachev in my latest at the Diplomat:
Will we ever have a Chinese Tolkachev?

As detailed in David Hoffman's Billion Dollar Spy, between 1979 and 1985, Soviet radar engineer Adolf Tolkachev turned his hatred of the Soviet regime into some of the most devastating industrial espionage ever conducted. Tolkachev took advantage of his position at the radar design firm Phazotron to make copies and photographs of volumes of material associated with Soviet radar and electronics systems. This gave the United States an inside look at the sensor capabilities of the USSR's most advanced fighters and interceptors.
Pictured above is the Gryphon ground launched cruise missile. Essentially, Tolkachev's espionage let the US know that the Soviets had no effective way of detecting the missiles before they reached their targets.
Here are your top ten LGM posts of 2015!!!!!!
I think this is the first time I've cracked the list in four years or so.
My latest at the National Interest takes a look at our apparent inability to stop having wars over the Christmas holiday:
For decades, the story that German and British soldiers left their trenches on Christmas Day 1914 and played football in No Man's Land has captivated readers. The idea that soldiers could find a basic, common humanity that their governments (and officers) had lost seemed to give a sense of hope in a century of unrelentingly grim warfare.

Over the last year, the famous "Christmas Truce" of 1914 has mostly generated debunkings and reappraisals; the "truce" was shorter lived and less consequential than many wished to believe at the time, or since. Still, we find the idea of the Christmas Truce appealing, because Christmas has become the central holiday of a religion that has, at its core, a deep pacifist appeal. The idea that Christian countries should set aside their disputes, at least for a day, is heartwarming, especially considering the horrors that soldiers suffered on the Western Front for the rest of the war.

Unfortunately, the notion that Christmas should serve as a moment of respite in war is often honored in the breach, even by Christian peoples.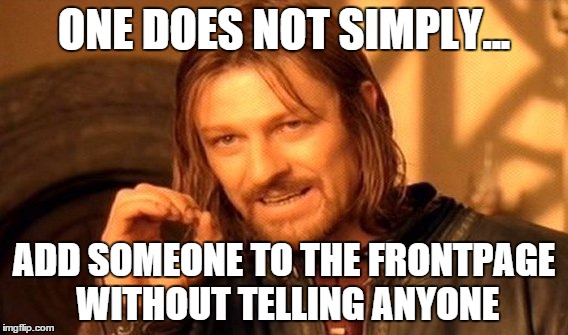 We have been remiss in failing to announce that we have decided to add the beloved Shakezula as a permanent front-page contributor.
All hail the mighty Shakezula!
And please, enjoy a very Merry Christmas, and a very Happy Holidays!