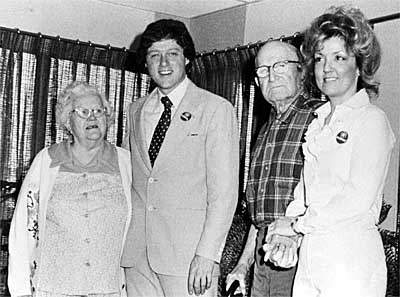 Karen Tumulty and Frances Sellers in the Washington Post:
Last month, a woman in the audience at a Clinton campaign event in New Hampshire asked her: "You say that all rape victims should be believed. But would you say that about Juanita Broaddrick, Kathleen Willey and/or Paula Jones?"

Clinton responded: "Well, I would say that everyone should be believed at first until they are disbelieved based on evidence."

It was not a spontaneous question. The woman read from a card and mispronounced the first two names she mentioned.

But to anyone who followed the sagas of the Clinton presidency, they were familiar ones:

●Broaddrick had accused Bill Clinton of raping her in 1978, when she was working on his Arkansas gubernatorial campaign.

●Willey, a former White House volunteer, said he had attempted to kiss and grope her in a private hallway leading to the Oval Office.

●Jones, a onetime Arkansas state employee, sued Clinton in 1994 for sexual harassment, saying he had three years earlier exposed his erect penis to her and asked her to kiss it.

And, of course, the biggest of all was the scandal over Clinton's extramarital affair with Monica Lewinsky, who was a White House intern at the time. [Emphasis added]
Tumulty and Sellers are "just reporting," but it would be nice if while doing so they might give some indication somewhere in their story that one of these things is not like the others (they don't).
In regard to Juanita Broaddrick, Michelle Goldberg and Dylan Matthews both have good rundowns on why her allegations are a potential problem for HRC, given that in November Clinton tweeted that "every survivor of sexual assault deserves to be heard, believed, and supported."
In 1999, Broaddrick publicly claimed that Bill Clinton had raped her in a hotel room 21 years earlier. She reportedly told a few people about the alleged assault at the time, and right-wing operatives shopped the story during Clinton's first presidential campaign. Broaddrick refused to talk, however, and she later denied the rape in an affidavit in the Paula Jones case. It was only when she was interviewed by the FBI in the course of Kenneth Starr's investigation that she changed her story and said the rape had in fact happened. (In the New York Times, she explained the about-face by saying she hadn't wanted to go public but felt she couldn't lie to federal investigators.) Shortly afterward, frustrated with rumors that had begun to circulate about her, she gave several high-profile interviews.

We will probably never know the truth of what happened between Broaddrick and Clinton. But today, few feminists would find her shifting story disqualifying. Consider, also, another piece of evidence that was marshaled against Broaddrick in the 1990s: Three weeks after the alleged assault, she attended a fundraiser for Clinton. Speaking to Klein, she says she was traumatized and blamed herself for what happened. "I felt responsible. I don't know if you know the mentality of women and men at that time. But me letting him come to my room? I accepted full blame." In any other context, most feminists today would find this credible. After all, many were outraged when rape skeptics tried to discredit Columbia student Emma Sulkowicz because she'd sent friendly Facebook messages to her alleged rapist after the alleged rape.
Of course the proposition that every survivor of sexual assault deserves to be believed is, when taken literally, a tautology. But statement's like Clinton's are often not taken literally: instead they are understood to mean that people who claim to have been sexually assaulted deserve to be believed. This, as Jeannie Suk points out, is a problem:
What could possibly be the logic on which criticism of "The Hunting Ground" could be said to contribute to a hostile environment, or to cause a student to feel unsafe? The film features the first-person narratives of individuals who describe their sexual assaults and then go on to describe the insensitivity of campus officials or police who did not vindicate their claims. At the Sundance festival première, which I attended, when an audience member asked what people could do to join the fight against campus sexual assault, one of the survivors featured in the film responded, simply, "Believe us." It is a near-religious teaching among many people today that if you are against sexual assault, then you must always believe individuals who say they have been assaulted. Questioning in a particular instance whether a sexual assault occurred violates that principle. Examining evidence and concluding that a particular accuser is not indeed a survivor, or a particular accused is not an assailant, is a sin that reveals that one is a rape denier, or biased in favor of perpetrators.

This is the set of axioms on which one might build a suggestion that challenging the accuracy of "The Hunting Ground" contributes to a hostile environment on campus. If I am a student at a school where professors seem to disbelieve one accuser's account, then it is possible that they could disbelieve me if I am assaulted. That possibility makes me feel both that I am unsafe and that my school is a sexually hostile environment. Under this logic, individuals would not feel safe on campus unless they could know that professors are closed off to the possibility that a particular person accused of sexual misconduct may be innocent or wrongly accused. But, then, what would be the purpose of a process in which evidence on multiple sides is evaluated? Fair process for investigating sexual-misconduct cases, for which I, along with many of my colleagues, have fought, in effect violates the tenet that you must always believe the accuser. Fair process must be open to the possibility that either side might turn out to be correct. If the process is not at least open to both possibilities, we might as well put sexual-misconduct cases through no process at all.

The ironclad principle that you must always believe the accuser comes as a corrective to hundreds of years in which rape victims were systematically disbelieved and painted as liars, sluts, or crazies. This history, along with the facts that sexual assault is notoriously underreported and that the crime suffers no more false reports than other crimes—and the related idea that only those actually assaulted would take on the burden of coming forward—leads many advocates today to the "always believe" orthodoxy. We have seen recent high-profile instances in which that article of faith has led to damaging errors, as in Rolling Stone's reporting of a rape at the University of Virginia, or the prosecution of the Duke lacrosse case. The extent of the damage comes out of the fact that "always believe" unwittingly renders the stakes of each individual case impossibly high, by linking the veracity of any one claim to the veracity of all claims. When the core belief is that accusers never lie, if any one accuser has lied, it brings into question the stability of the entire thought system, rendering uncertain all allegations of sexual assault. But this is neither sensible nor necessary: that a few claims turn out to be false does not mean that all, most, or even many claims are wrongful. The imperative to act as though every accusation must be true—when we all know some number will not be—harms the over-all credibility of sexual assault claims.
(Emily Yoffe describes the disturbing story behind The Hunting Ground here).
Goldberg notes that "the people who hope to use Broaddrick against Hillary [don't] care about victim blaming. And it would be a profound sexist irony if these accusations, having failed to derail Bill Clinton's political career, came back to haunt his wife." (Over at The Corner, David French inadvertently provides a fine specimen of the paranoid style in action, when he admits that he came to Vox's story "expecting a whitewash." Because if there's one principle that the "liberal media" has stuck to over the years is that it will cover up accusations of sexual misconduct against Bill Clinton).
But, as she also notes, "particularly when it comes to Broaddrick, it's not easy to square the arguments against believing her with the dominant progressive consensus on trusting victims. This is a tension that people on the right are eager to exploit." And exploit it they will.