Against Trump normalization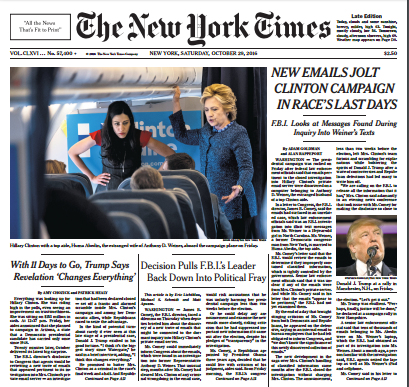 There is no easy solution to the problem of Donald Trump being widely perceived, or people pretending to perceive him, as a normal opposition candidate. Margaret Sullivan has some ideas for how the political press could deal with it:
The Guardian's David Smith laid out the contrast: "Since Biden took office the US economy has added a record 14m jobs while his list of legislative accomplishments has earned comparisons with those of Franklin Roosevelt and Lyndon Johnson … Trump, meanwhile, is facing 91 criminal indictments in Atlanta, Miami, New York and Washington DC, some of which relate to an attempt to overthrow the US government."

So what can the press do differently? Here are a few suggestions.

Report more – much more – about what Trump would do, post-election. Ask voters directly whether they are comfortable with those plans, and report on that. Display these stories prominently, and then do it again soon.

Use direct language, not couched in scaredy-cat false equivalence, about the dangers of a second Trump presidency.

Pin down Republicans about whether they support Trump's lies and autocratic plans, as ABC News's George Stephanopoulos did in grilling the House majority leader Steve Scalise about whether the 2020 election was stolen. He pushed relentlessly, finally saying: "I just want an answer to the question, yes or no?" When Scalise kept sidestepping, Stephanopoulos soon cut off the interview.

Those ideas are just a start. Newsroom leaders should be getting their staffs together to brainstorm how to do it. Right now.
The first point — focus on what Trump will actually do in office — is the most important one. Alas, I think Josh McDaniels has a better chance of ending up in the Hall of Fame. Besides, have I mentioned that Joe Biden is TWO YEARS older?
Biden is too old, Hillary didn't smile enough, Obama was too aloof, Kerry was too French, Al Gore wore earth tones, Bill Clinton was Slick Willie, Dukakis got into a tank. Why is it so hard for Democrats to find decent candidates?— New York Times Pitchbot (@DougJBalloon) November 9, 2023