Federal indictments of Trump seem imminent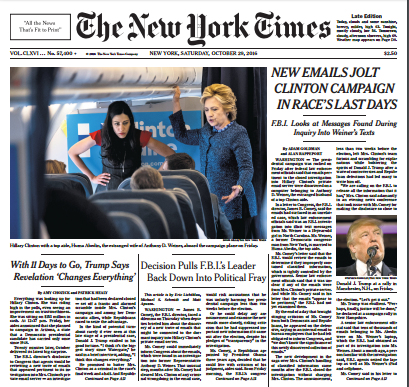 In retrospect, the idea that the single-issue information security voter in 2016 should have preferred Trump seems misguided:
Federal prosecutors have informed the legal team for former President Donald J. Trump that he is a target of their investigation into his handling of classified documents after he left office, according to two people familiar with the matter.

The notification to Mr. Trump's team by prosecutors from the office of the special counsel, Jack Smith, was the clearest signal yet that the former president is likely to face charges in the investigation.

It remained unclear when Mr. Trump's team was told that he was a target of the special counsel's inquiry, but the notice suggested that prosecutors working for Mr. Smith had largely completed their investigation and were moving toward bringing an indictment.

In court papers last year, prosecutors indicated that they were scrutinizing whether Mr. Trump had broken laws governing the handling of national security documents and whether he had obstructed government efforts to retrieve them.
To coin a phrase, lock him up.