If Donald Trump is dead or in a coma Ron DeSantis will probaby be the GOP nominee
Comments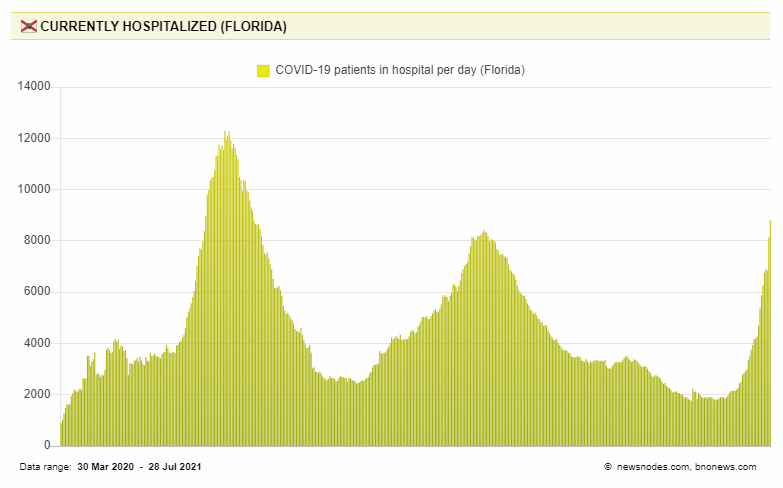 Though I'm not sure about the coma part.
Let us recall the question Rich Lowry asked the nation and the world not so very long ago.
Hospitalizations for COVID in Florida are now higher than they were at any point during last winter's terrible carnage, and the trend is pretty much straight up.
Note that this third wave began months after vaccines that almost completely eliminate the risk of having to be hospitalized became widely available to the public.
Today, Governor Ron DeSantis was joined by local legislators and small business owners in St. Petersburg where he signed Senate Bill (SB) 2006, landmark legislation aimed at stemming the tide of local and state government overreach.

The bill takes aim at arbitrary lockdowns, vaccine passports and enhances emergency preparedness for future emergencies. Governor DeSantis also signed Executive Orders 21-101 and 21-102 suspending all local emergency orders until July 1, 2021, at which point local orders will be permanently invalidated pursuant to SB 2006.

"Over the last year we've avoided protracted lockdowns and school closures in Florida because I have refused to take the same approach as other lockdown Governors. This legislation ensures that legal safeguards are in place so that local governments cannot arbitrarily close our schools or businesses," said Governor Ron DeSantis. "In Florida, your personal choice regarding vaccinations will be protected and no business or government entity will be able to deny you services based on your decision. I'd like to thank President Simpson, Speaker Sprowls and the Florida Legislature for getting this legislation got across the finish line."May 3, 2021
As Florida schools return to in-person learning next month and COVID-19 cases surge, Gov. Ron DeSantis doubled down on his opposition to mask requirements Thursday, suggesting he would be willing to call a special session of the Legislature to outlaw it if the federal government imposes a mandate or local school districts defy him.

"We look forward to this upcoming year to be a normal school year, be in person, and live like normal and learn like normal kids," DeSantis said at a news conference at Indian River State College. "There's been talk about potentially people advocating at the federal level, imposing compulsory masks on kids. We're not doing that in Florida, okay? We need our kids to breathe. We need our kids to be able to be kids."July 22, 2021
Local control!
A bunch of DC thumbsuckers actually think this kind of thing is going to hurt DeSantis's chances of getting the GOP nomination, when in fact doing his best to murder as many of his constituents as possible is a requirement to have any shot of getting the big job.
Of course his shadow campaign isn't going anywhere if Donald Trump is even arguably still alive two and half years from now.