The Borking of Amy Coney Barrett
Comments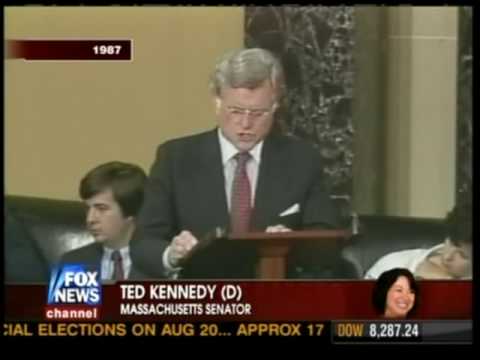 I am appalled that we are witnessing the greatest act of incivility in American politics — that is, accurately quoting the publicly expressed views of a Republican Supreme Court nominee:
President Donald Trump's nominee for the Supreme Court, Judge Amy Coney Barrett, added her name to a list of "citizens of Michiana" who signed a "right to life ad" sponsored by a group that opposes abortion that appeared in a local newspaper in 2006.On the opposite page of the insert in the South Bend Tribune is an advertisement from the same group, the Saint Joseph County Right to Life, that called for putting "an end to the barbaric legacy of Roe v. Wade and restore laws that protect the lives of unborn children."First reported Wednesday by the National Review, the ads are the clearest sign yet that Barrett may have questioned Roe v. Wade as a law professor before she took the bench. Her views on abortion rights are of immense speculation as she is set to replace the late Justice Ruth Bader Ginsburg on the court and could be a pivotal vote in potential challenges to Roe.The full statement on the page where Barrett's name appears reads, "We the following citizens of Michiana oppose abortion on demand and support the right to life from fertilization to a natural death."
That explains why Michael McConnell's pathetic propaganda effort just sidestepped Coney Barrett's views about Roe and simply declared the survival of Roe an inexorable fact of nature. But it's not.