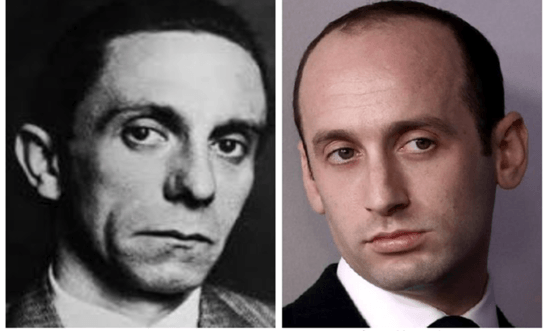 I was otherwise engaged, so I just opened my browser to this:
Donald Trump declined to condemn white supremacists and violent rightwing groups during a contentious first presidential debate in which the issue of anti-racism protests and civic unrest was one of the topics of discussion.

Asked repeatedly by the moderator, Chris Wallace, to condemn the actions of white supremacists and other groups, such as militias or far-right organizations, Trump ignored the question and sought to instead criticize the actions of leftwing groups and activists.

The line of questioning eventually prompted Trump to mention the Proud Boys, a far-right group often associated with violent protests, especially in Portland, Oregon. Trump appeared to address the group by saying: "Proud Boys, stand back and stand by! But I'll tell you what, somebody's got to do something about antifa and the left."
These Proud Boys?
The Proud Boys is a far-right[4][5][6][7][8] and neo-fascist[9][10][11][12] organization that admits only men as members and promotes and engages in political violence.[2][13][14][15] It is based in the United States and has a presence in Australia, Canada and the United Kingdom.[16][17] The group was started as a joke in the far-right Taki's Magazine[18] in 2016 by Vice Media co-founder and former commentator Gavin McInnes, taking its name from the song "Proud of Your Boy" from the Disney film Aladdin.[19][20] 

In late November 2018, a news story which attracted national attention[33] reported that the FBI classified the Proud Boys as an extremist group with ties to white nationalism.[14] Two weeks later, an FBI official briefing Clark County, Washington, law enforcement officials on the group denied that it was their intent to classify the entire group in this manner and ascribed the mistake to a misunderstanding. During the briefing, FBI agents suggested the use of various websites for more information, including that of the SPLC.[33][34] The official said that their intent was to characterize the possible threat from certain members of the group.[35]
Donald Trump is the Republican Party and the Republican Party is Donald Trump. Never forget; never forgive.