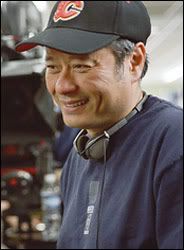 Ang Lee speaks out against proposed Tory legislation that would deny the usual Canadian tax credits to "films and videos deemed offensive to the public." (In fairness, if it would have stopped Lost and Delirious from being made it would prove that even social conservatism has its upside.) More important tonight, however, is that he can serve as a good luck charm, as he shows good judgments about both Western Canadian cities and hockey teams:
Lee captivated his audience with his friendly, unassuming demeanour.

His next movie, he disclosed, is "a comedy about the sixties," but he would also love to make a film one day in Vancouver.

"I think this is the most beautiful city in the world …. I hope it's a hockey movie. I want to make a movie where Canadians win, not always Americans," said Lee, who became a fan of the Calgary Flames during the filming of Brokeback Mountain.
Hopefully Game 7 will be a little more suspenseful than tonight's primary. (For some reason, I'm guessing some LG&M readers care more about the latter, so this can serve as a Primary Open Thread.)
…ugh, this fiasco has been much more The Hulk than The Ice Storm…