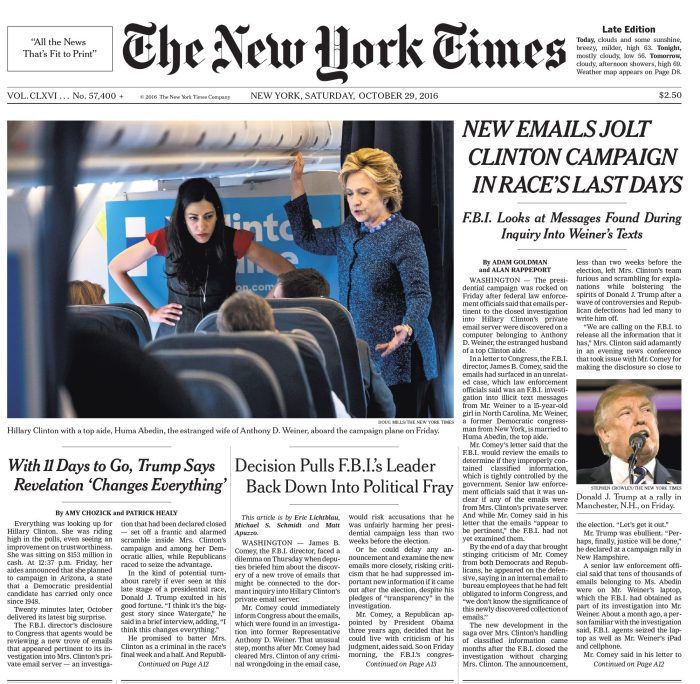 This was an A1 story in yesterday's New York Times:
Who, exactly, is objecting? Well, one father whose politics can be safely inferred from the fact that he took his story to Sean Hannity, and a former speechwriter for George W. Bush:
"Mr. Biden is not a Gold Star father and should stop playing one on TV," William McGurn, a speechwriter for President George W. Bush, wrote in an op-ed in The Wall Street Journal. Mr. Biden has never claimed that his son died in combat, but he has often spoken of his son's overseas deployment and the toll it took on his family. Mr. Biden's supporters say that military families are entitled to their grief, but that the president is also entitled to his.
That's it. The whole piece is framed around the complaints of two people who would complain about what Biden said no matter what. It's another case where I'm impressed that parody is even possible:
To save his presidency, Biden must stop grieving for his deceased son Beau— New York Times Pitchbot (@DougJBalloon) September 6, 2021
Joe Biden's sadness over his son Beau's death has many in Washington yearning for the empty narcissism of Donald Trump.— New York Times Pitchbot (@DougJBalloon) September 6, 2021
And, of course, it's not a coincidence that this "discovery" that a select number of Republicans doesn't like how Joe Biden discusses his son is happening now:
Honestly, I've got to say hats off to the Blob on this whole Afghanistan thing.

They couldn't achieve any of their stated war aims, but they've proven they can absolutely wreck you politically if you fuck with them.

It's ruthless & impressive. https://t.co/8e65WFHa2R— Matthew Yglesias (@mattyglesias) September 6, 2021
The idea that Trump would have withstood even a fraction of this pushback and gone ahead with the withdrawal is absurd — cf. his entire presidency passim.
[Title h/t to Dorothy Fortenberry.]
….people in comments who remembered the initial headline being even worse are correct:
Wow, what a-holes.

The original: @nytimes: "Biden, Still Grieving His Son Beau, Finds That Not Everyone Wants to Hear About It"

Now: "In Invoking Beau, Biden Broaches a Loss That's Guided His Presidency" pic.twitter.com/6IHuzr52q6— Tommy moderna-vaX-Topher (@tommyxtopher) September 4, 2021