A Fiendish Cartoon Teaching Kids To Question Authority
Comments
Smithsonian magazine revisits the political satire of 1960's children's show Rocky and Bullwinkle. 
I've been doing some research into children's media these days (as you can tell by my previous Sesame Street posts) and came across this great review of a silly old TV show that is familiar to multiple generations. Rocky and Bullwinkle was a cartoon variety show featuring an intrepid squirrel and his struggling moose friend, two Russian spies, a hapless Canadian mountie, a time traveling academic dog and his human boy assistant, and many others.
Beth Daniels describes watching the subtle way the show taught kids to poke fun at the American mythos as a child in the 1970's:
It wasn't that Bullwinkle the character was especially compelling. He was an affable doofus with a loyal heart, if limited brainpower. Rocky was the more intelligent straight man: a less hostile Abbott to Bullwinkle's more secure Costello. They were earnest do-gooders who took every obviously shady setup at face value. Their enemies were far cleverer, better resourced, and infinitely more cunning, but Rocky and Bullwinkle always prevailed. Always. For absolutely no good reason. It was a sendup of every Horatio Alger, Tom Swift, plucky-American-hero-wins-against-all-odds story ever made.

What we didn't know in the '70s, when we were watching, that this was pretty subversive stuff for a children's program made at the height of the Cold War. Watching this dumb moose and his rodent pal continually prevail against well-funded human saboteurs gave me pause to consider, even as a kid, that perhaps it is a silly idea to believe that just because we're the good guys we should always expect to win.
Daniels also describes the timeless relevance of the "Goof Gas" episode, where a nefarious foreign plot turns government into a bunch of idiots. Check it out below.
As a bonus, here are some of your favorite R&B characters making appearances in modern Trump satire.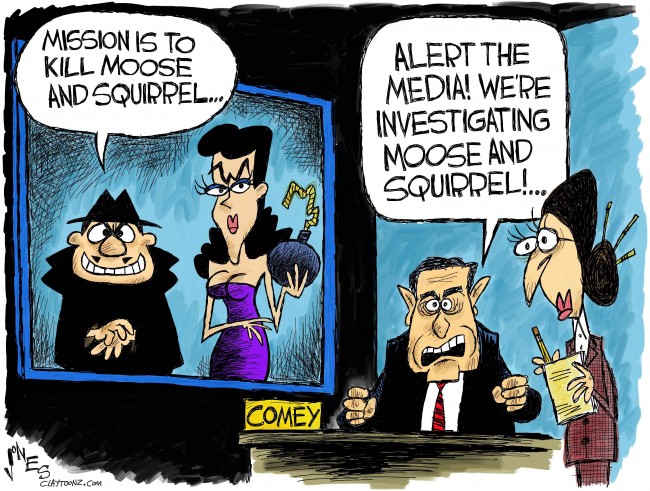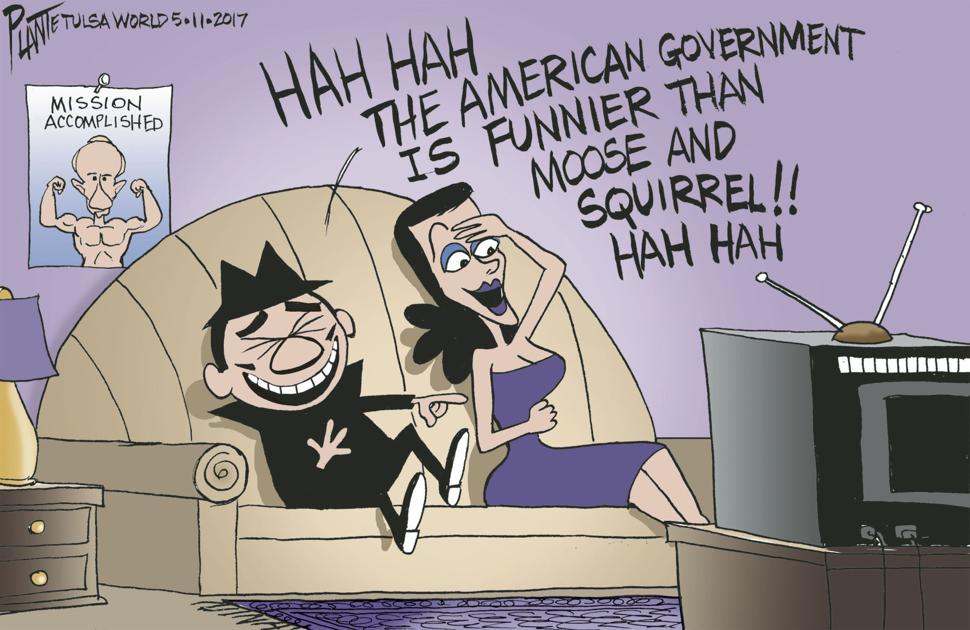 Has anyone seen the reboot Hollywood tried to do of Rocky and Bullwinkle in 2000? Or the Mr. Peabody and Sherman from 2014? How does it hold up?