Oh hey. No thanks to Loomis, obviously.
I would like to personally congratulate you as your blog LG&M has been selected by our panelist as one of the Top 100 Political Science Blogs on the web.

I personally give you a high-five and want to thank you for your contribution to this world. This is the most comprehensive list of Top 100 Political Science Blogs on the internet and I'm honored to have you as part of this!

Also, you have the honor of displaying the following badge on your blog. Use the below code to display this badge proudly on your blog.
Ok. If you say so.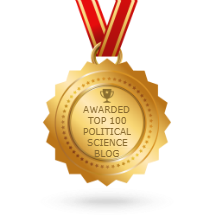 I have… reservations regarding the methodology, but I'm not going to let those reservations get in the way of designating LGM an "Award Winning Blog" on my CV and any other relevant documentation.
Some comments from the peanut gallery:
Number 50. Like Mississippi

— Roger Bartlett (@RogerBartlett20) July 27, 2017
Have you considered the possibility this is due to your commenters being objectively despicable people?

— Malaclypse (@Mal_A_Clypse) July 27, 2017
I quite like Hogan. The rest can suck an egg.

— Chris M (@SFFFan42) July 27, 2017