I'm feeling thankful for the small things today
Comments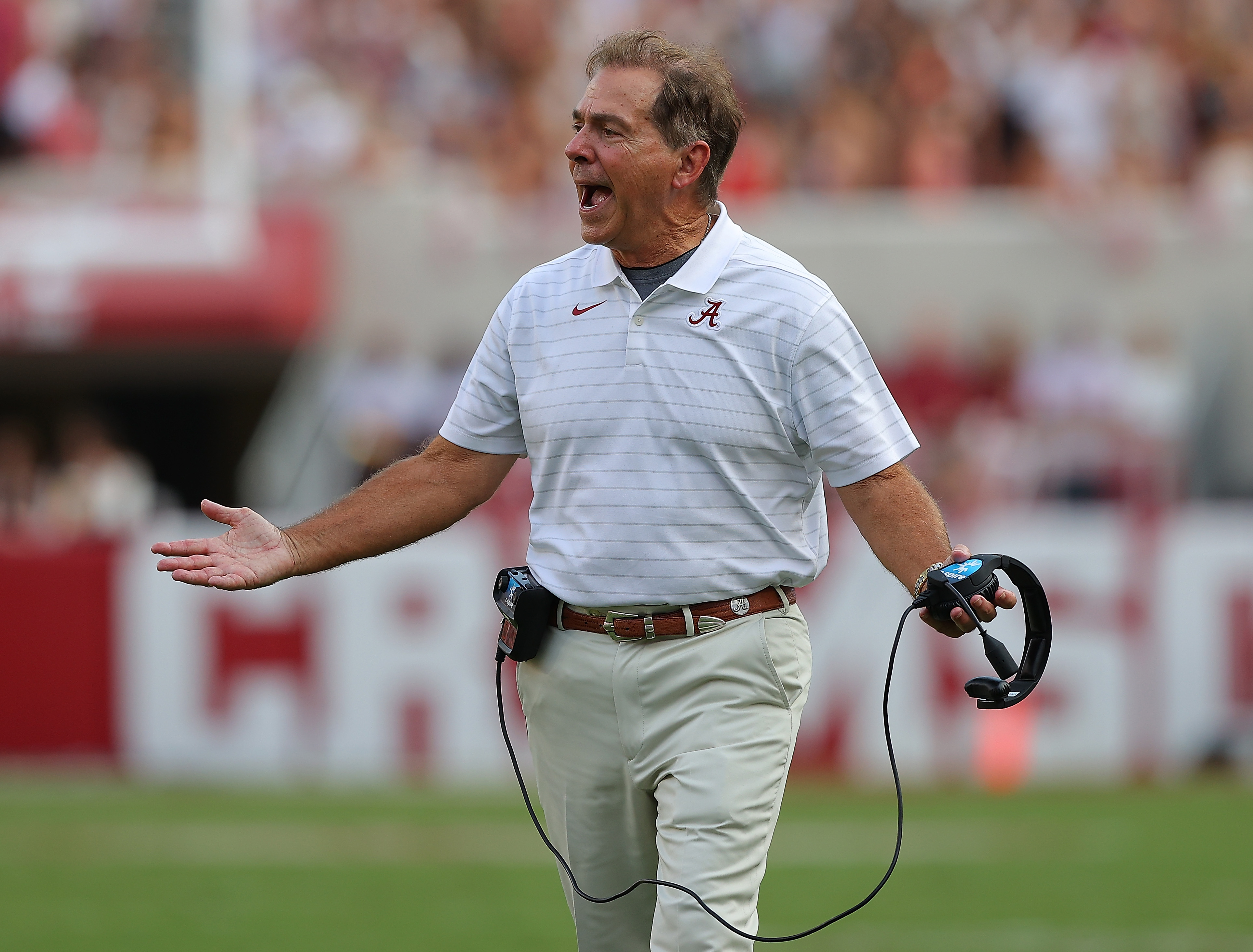 University of Alabama football coach Nick Saban everybody:
As No. 3 Alabama gears up for the Iron Bowl against rival Auburn, head coach Nick Saban had a message to what he perceived to be spoiled Crimson Tide fans: Be happy with winning.

Speaking on his weekly "Nick Saban Show" on Wednesday, Saban was asked a question about this year's Alabama team not blowing opponents out quite as much as teams from years past. The 70-year-old winner of seven national championships (six with the Crimson Tide) did not hold back in his reply. . . .

During last year's undefeated national championship campaign, only one team (Florida) came within 14 points of the Tide. This season, Alabama has three wins of seven points or fewer to go along with its upset loss to Texas A&M.

Saban continued to rant against fans who criticize players for not performing up to their expectations.

"Give me a break, this is not professional football," Saban said. "These guys aren't getting paid to play here. They're representing you all, you should be proud and happy to support them, and appreciate what they do and have some gratitude."
If I were getting paid $9.7 million per year to coach a scrappy bunch of totally ordinary college students in a fun extra-curricular activity I would definitely STFU about the whole "amateur" side of the operation but very clearly that's just me.
In related news, administrators at Penn State and Michigan State took a short break from paying hundreds of millions of dollars out to the people who were sexually abused by employees of their respective athletic departments in order to approve contract extensions for their football coaches.
PSU's James Franklin got a ten-year extension that's being inaccurately reported as worth a mere $75 million. The real figure (not counting incentive bonuses, some of which are easy to reach and will bump the annual comp by several hundred thousand) is $85 million. Reporters don't seem to get that when the university buys you a one million dollar per year life insurance policy — that's the annual cost of the premium! — that's actually a one million dollar per year additional supplement to your compensation. If you're the kind of person who just loves to delve into the technicalities of split-dollar life insurance policies, here's a handy guide, which explains how these increasingly popular and very skeevy tax dodges are being structured to funnel even more gargantuan sums to the highest-paid employees at various charitable non-profits, like universities and their football coaches.
TL;DR: These things are vehicles for making interest-free fake loans to employees, since the cash value of the policy — which would pay out in the many tens of millions of dollars to Franklin's beneficiaries if he actually died over the course of the contract — can be borrowed against by Franklin. In addition as a practical matter these would end up being non-recourse loans from PSU's perspective, which again makes them essentially tax dodges from the perspective of PSU and Franklin. Again, feel free to delve into the technical details, which are actually sort of fascinating if you're into this kind of thing, not that there's anything wrong with that.
Meanwhile, over in East Lansing, Mel Tucker, whose lifetime head coaching record prior to September stood at a less than magnificent seven wins and eleven losses, just signed a $95 million ten-year extension. Note that apparently quite a bit of the cost of this deal is being covered by some enthusiastic boosters of the MSU football program. I'm sure nothing could go wrong with having the compensation of university employees covered by a bunch of obsessive rich dudes. (Wait isn't that what an endowment actually is?)
The really eye-popping feature of both of these extensions, beyond the dollar amounts themselves, is that neither deal features any kind of buyout on the school's side. In other words, if at any point over the next decade either PSU or MSU should decide they want a new football coach, because the current guy isn't winning enough games (a conclusion that big-time college football programs tend to reach on a fairly regular basis), then they would have to pay Franklin and/or Tucker the full remaining compensation due to them under the contract. This is a new development in the world of gargantuan college football coaching contracts: Up until now, the standard structure was for the school to own the fired coach some obscene sum in liquidated damages, that while still lacking all socially redeeming value, was still way less than the entire outstanding sum owed under the contract.
In addition, liquidated damages are automatically offset by any money the fired coach makes in a new job. Neither of these contracts have any kind of offset provision.
(Over the course of the last decade, public universities have paid out more than $533 million in dead money to fired coaches under liquidated damage arrangements).
A quick historical refresher on the growth of college football coaching contracts:
ANNUAL COMPENSATION IN 2021 DOLLARS
Hey these are nominal dollars right? NO THEY'RE INFLATION-ADJUSTED.
Woody Hayes, Ohio State 1951: $134,000
Bear Bryant, Alabama 1958 (He was also the Athletic Director so this was his salary for both jobs): $169,000
Bo Schembechler, Michigan 1969: $159,000
Salaries started exploding in the 1980s because of TV money. The big breakthrough was when TAMU hired sleazeball extraordinaire Jackie Sherrill away from Pitt after failing to lure Schembechler away from Michigan.
He got a contract that was worth — again 2021 dollars! — $794,000 per year, which was more than double in real dollars than what any university president was paid at the time. This contract caused cries of outrage from people about how out of control things were getting.
Landmarks since then (Again, 2021 dollars!):
Bobby Bowden FSU 1996: $1.76 million
Steve Spurrier Florida 2001: $3.27 million
Bob Stoops Oklahoma 2006: $4.08 million
Saban Alabama 2007: $5.3 million
Saban Alabama 2014: $8.1 million
Little pink houses for you and me.
. . . forgot to mention that one thing that really grinds my gears about all this nonsense is a small detail that seems particularly telling somehow: Franklin's contract includes a $10,000 a year benefit for car payments. In other words, a guy who is making $8.5 million per year can lease a high-end luxury vehicle every couple of years and never have to pay for it. I realize this is standard stuff in these kinds of deals (and not just for football coaches of course), but that's the problem: Rich people don't have to pay for anything.