Is it realistic to hope that a non-trivial percentage of people who say they're voting for Trump actually won't?
Comments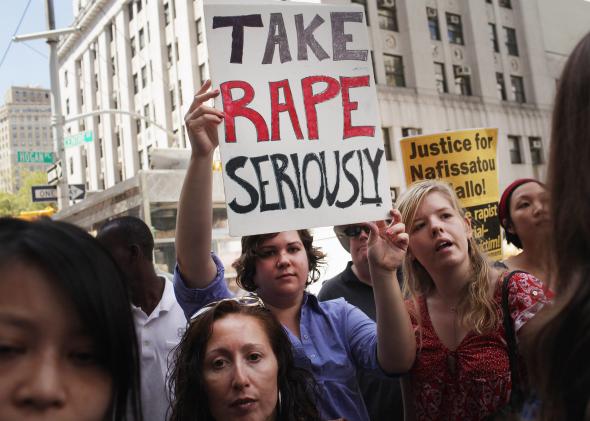 And by "people" I mostly mean "women." (I'm not feeling very hopeful about the members of my gender at the moment).
I realize Trump is doing badly with women already, but this is just beyond sickening:
Also:
Kristin Anderson was deep in conversation with acquaintances at a crowded Manhattan nightspot and did not notice the figure to her right on a red velvet couch — until, she recalls, his fingers slid under her miniskirt, moved up her inner thigh, and touched her vagina through her underwear.

Anderson shoved the hand away, fled the couch and turned to take her first good look at the man who had touched her, she said.

She recognized him as Donald Trump: "He was so distinctive looking — with the hair and the eyebrows. I mean, nobody else has those eyebrows."

At the time of the incident, which Anderson said took place in the early 1990s, she was in her early twenties, trying to make it as a model. She was paying the bills by working as a makeup artist and restaurant hostess. Trump was a big celebrity whose face was all over the tabloids and a regular presence on the New York club scene.

The episode, as Anderson described it, lasted no more than 30 seconds. Anderson said she and her companions were "very grossed out and weirded out" and thought, "Okay, Donald is gross. We all know he's gross. Let's just move on."

Over the years, Anderson, now 46 and a photographer living in Southern California, has recounted the story to people she knew, casually at first.

One friend, Kelly Stedman, told The Washington Post that Anderson informed her about the encounter a few days after it happened.

"We were out at a girls' brunch" at the Great Jones Cafe in Manhattan, Stedman said, recalling that when she and two other friends heard the story, they found themselves "laughing at how pathetic it was" on Trump's part. . .

Anderson, who said she doesn't support Trump or Democrat Hillary Clinton, did not initially approach The Post. A reporter contacted her after hearing her story from a person who knew of it, and she spent several days trying to decide whether to go public.

Anderson's decision to do so follows last week's disclosure by The Washington Post of a 2005 video in which Trump boasted to "Access Hollywood" host Billy Bush that his celebrity gave him the ability to grab women "by the p—y. You can do anything."

Trump insisted that his comments were "just words" and dismissed them as "locker room banter."
. . . and this afternoon Paul Ryan maintained his deeply principled stand of supporting Donald Trump's presidential bid while very subtly signaling to sympathetic observers that he is not happy about it:
As new sexual assault allegations against Donald Trump emerged Friday afternoon, House Speaker Paul Ryan (R-WI) was in Madison, Wisconsin, lecturing college students about why they should vote for Trump.

Ryan didn't mention Trump's name, but painted a dystopian picture of America under the rule of Hillary Clinton and her fellow Democrats. In short, Ryan believes America will be a terrible place unless Trump becomes president.

"What vision do Hillary Clinton and her party offer the people? They want an America that does not stand out," Ryan said. "They want an America that is ordinary — there is kind of a gloom and grayness to things… we are ruled by our betters, by a cold and unfeeling bureaucracy that replaces original thinking." . . .

The case Ryan made for Trump comes just days after the House Speaker reportedly told Republican caucus members he was done defending his party's presidential nominee. That decision came in the wake of the October 7 release of a 2005 video of Trump bragging about sexual assault — remarks Ryan said "sickened" him.

But Ryan still hasn't rescinded his endorsement of Trump. And as he spoke in Madison, news broke of yet another woman alleging Trump groped her. Trump's camp insists all the women accusing Trump of sexual assault are lying, but many of their stories eerily sync up with behavior Trump bragged about on the 2005 video — forcible kissing and genital grabbing. Many of their accusations are corroborated by people they told about the incidents at the time they occurred.
. . . . also in the same speech from which the clip above is excerpted Trump mocked Hillary Clinton's body:
[I]n the last couple of days, Trump has sunk to new depths. In a speech yesterday, he charged, "Hillary Clinton meets in secret with international banks to plot the destruction of U.S. sovereignty in order to enrich these global financial powers, her special-interest friends and her donors" — inflammatory anti-Semitic imagery reminiscent of Charles Coughlin. And then Friday, in possibly the most deranged misogynistic moment of the campaign, Trump insulted Hillary Clinton's appearance, telling his audience, "when she walked in front of me, believe me, I wasn't impressed."

Trump has spent decades reducing all women to their appearance. At the same time, his presidential campaign has forced upon him certain disciplines, one them being the need to conceal this habit. During the primary, he dismissed Carly Fiorina — "Look at that face! Would anyone vote for that? Can you imagine that, the face of our next president?" – but, when confronted, backed down with an unconvincing denial. The denial indicated Trump's awareness that this was a line he could not cross, a side of himself he could not show.

But the recent spate of sexual-assault allegations returned Trump to his natural state, and he has spent days boasting that he would never force himself upon the women accusing him of doing so because they are not attractive enough. He then slipped almost naturally into a dismissal of his opponent. Denying his opponent's charge that he evaluates all women by their looks has become too exhausting a pose to maintain, and, with his polls submerging, the payoff of forbearance has dwindled to too low a level. The mask has slipped, and Trump is thrusting himself before the country as the grossly bigoted misogynist his critics have always known him to be, a disgraceful excuse for a human being, a monster without restraint.
I'm pretty sure Paul Ryan disapproves very, very deeply of this as well.