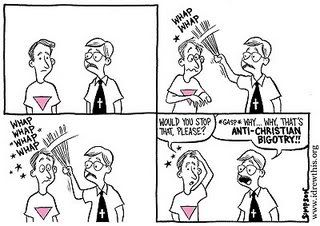 [Picture via LGF watch.]
One of the strategies that we're going to see more from cultural reactionaries is to misleadingly cite "religious freedom" in asking for broad exemptions to civil rights law, which we recently saw in a Weekly Standard cover story authored by Maggie Gallagher. In a subsequent post, I'll actually express some sympathy for recent Supreme Court doctrine on free exercise, which has aroused ire both left and right. What's important to emphasize right now is that whether or not you think the free exercise clause should be interpreted more broadly than the Supreme Court currently does, these arguments about "religious freedom" should be considered a non-starter.
It's important to understand how broadly "religious freedom" is being used here. We're not talking about churches being forced to perform gay marriage ceremonies, which would indeed be a violation of religious liberty. What we're talking about here is religious freedom being used to defend religious institutions who want to engage in secular functions with taxpayer dollars while violating civil rights laws. The punchline to this Rod Dreher post praising the silly Gallagher article sums it up:
The real kicker is this: "Once sexual orientation is conceptualized as a protected status on a par with race, traditional religions that condemn homosexual conduct will face increasing legal pressures regardless of what courts and Congress do about marriage itself." Translation: churches, synagogues, mosques, religious schools and other institutions that uphold traditional moral teaching about homosexuality stand to lose their tax-exempt status.
Lose…their tax-exempt status! The horror! Actually, it's not really clear that this would be the case; only the secular functions of churches would presumably be subject to most civil rights laws. But even if this is right, it's worth remembering that we're not talking about religious institutions being forced by state coercion to admit gay members, or say good things about homosexuality, or perform gay marriages. The issue is whether churches can discriminate on the taxpayer's dime. The response of a serious religious believer might be to note that this is exactly why the separation of church and state is good for religion; the entanglement of the two will tend to press churches toward official state policy via the lure of taxpayer money. But to people who care more about power than about principle, the idea is that you're entitled to be showered with taxpayer money while practicing bigotry. Indeed, because this bigotry has a religious foundation the state is allegedly not allowed to say that it's bigotry at all. Consider this Gallagher quote:
Generally speaking the scholars most opposed to gay marriage were somewhat less likely than others to foresee large conflicts ahead–perhaps because they tended to find it "inconceivable," as Doug Kmiec of Pepperdine law school put it, that "a successful analogy will be drawn in the public mind between irrational, and morally repugnant, racial discrimination and the rational, and at least morally debatable, differentiation of traditional and same-sex marriage." That's a key consideration. For if orientation is like race, then people who oppose gay marriage will be treated under law like bigots who opposed interracial marriage. Sure, we don't arrest people for being racists, but the law does intervene in powerful ways to punish and discourage racial discrimination, not only by government but also by private entities.
Sounds good to me! Obviously, the claim that discrimination against gay people is more "rational" than racial discrimination is question-begging that (as Gallagher's own embarrassingly feeble efforts to attack gay marriage have shown) is highly implausible (racial discrimination was also supported with religious texts, and of course so is gender discrimination.) But, anyway, there's no serious issue of "religious" liberty here. The analogy is with pharmacists who want to be paid although they're not willing to do their jobs: they're not standing on principle at all, they want to have it all ways. This isn't about churches to stand up for their principles; this is about churches who want to suckle at the taxpayer's teat while practicing bigotry (and the state discriminating by outsourcing social services to religious groups.) It's actually quite straightforward: churches will sometimes have to choose between their teachings and state money. And if they want to perform secular functions, they should be subject to a state's civil rights laws when they do so, and these laws should protect discrimination against gay people. The entanglement of church and state will inevitably produce these conflicts; that the Gallaghers and Drehers of the world think the solution is more entaglement shows they haven't learned anything.