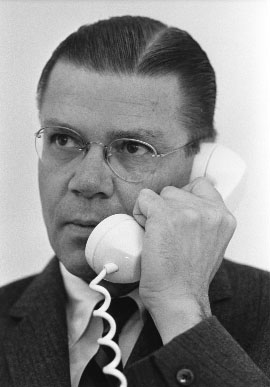 . . . was going to be Robert McNamara?
One of the fair-goers asked the Republican presidential candidate during his appearance on the Des Moines Register Soapbox whether he was being advised by Paul Wolfowitz, George W. Bush's deputy secretary of defense and the architect of his Iraq War policy.

Jeb Bush tried to spin the question away from his legacy as the son and brother of the last two Republican presidents, but he did so awkwardly.

"Paul Wolfowitz is providing some advice," Bush said. "I get most of my advice from a team that we have in Miami, Florida. Young people that are going to be … they're not assigned, have experience either in Congress or the previous administration."

He continued: "This game, the parlor game that's played, you know, where you have 25, 30 or 40 people that are helping you with foreign policy, and if they have any executive experience, they've had to deal with two Republican administrations — who were the people that were presidents, the last two Republican? I mean, this is kind of a tough game for me to be playing, to be honest with you."
Mmmm, beer.